When it comes to fly fishing, anglers are always looking for the best rod. The 2 weight fly rods offer a great balance of power and lightness that makes them perfect for smaller flies, delicate presentations, or even when you need to fish in tight spaces. In this article, we will look at some of the best 2 weight models on the market today so you can find one that suits your needs.
If you are in a hurry, here is a list of our top 2 weight fly rods
Echo Shadow II Fly Rod
Echo Shadow II is a high-quality fly rod that has impressed many. It is excellent for smaller fish like panfish and trout, but it is still strong enough to handle slightly larger fish should you hook one in the river. Typically, it is excellent for 6-14 inches fish. Here are the features that come with the rod:
Fast Action 
All fly rods in this series come with fast action. This means they are super sensitive, and you can notice even the slightest nibbles. In fact, the sensitivity of the tip is almost similar to that of a 2-weight fly rod. But since it has a thicker butt, it has the same pulling power as standard 3-weight fly rods. You can use this rod with dry flies and nymphs. 
Cork Grips 
The Echo Shadow II comes with half wells cork grips that fit perfectly on the arm. Furthermore, there is a rubberized cork ring at the rod's back and front, enhancing the grip even more. The cork ring also adds durability to the cork grips since those are the handle areas often prone to damages. 
Silicon Carbide Line Guides 
Silicon carbide line guide inserts are smooth, and they will not wear down your line. The first stripper guide is placed on the butt of the rod, which minimizes the amount of slack between the stripper guide and the hand you are using to control the line. The rest of the line guides are secured with thread wraps to ensure the fly line moves as smoothly as possible. 
Hook Keep 
The rod comes with a hook keep, positioned just above the grip. 
Pros
After-sale service and lifetime warranty to the buyer
Super sensitive rod for small fish fishing 
Good value for money. 
A beautiful finish that makes the rod quite presentable.
Cons
The rod tip is prone to breaks. 
Not suitable for long casts and larger fish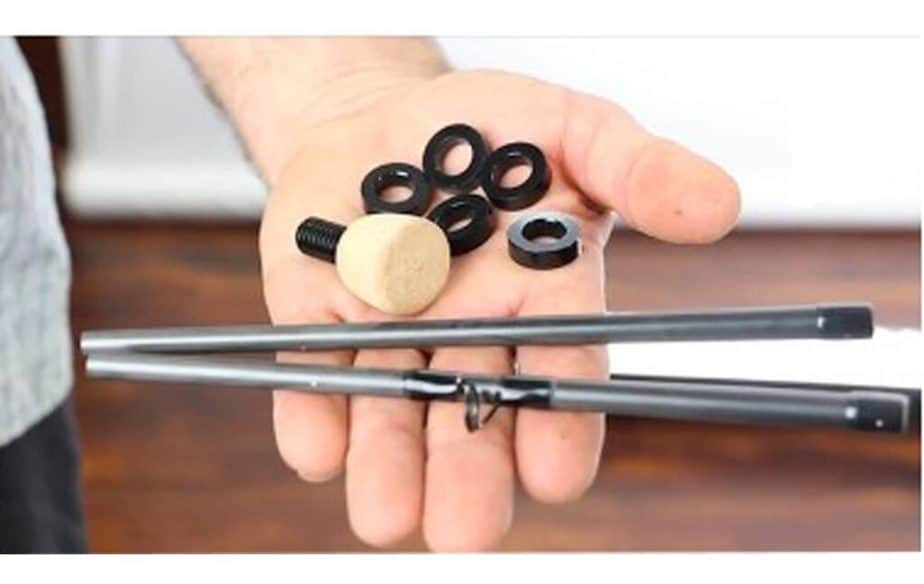 Echo Shadow II fly rod is available on online stores, including Amazon, and I recommend it to all fly fishing anglers, especially those who plan to catch smaller fish.
Orvis Recon Fly Rod :
Orvis Recon fly rod is the mid-price angler's dream. It delivers high performance, lightness in hand, close-in loading ability and power to reach for those longer casts with improved accuracy thanks to H3 construction techniques that are all wrapped into one package without breaking the bank.
For those who are always on the hunt for a good meal, there's no need to worry. Orvis has created this rod that is able to take care of business with its lightweight and stiff design made from SCII graphite materials so you can have your day worth fishing without having any worries about what will be available when it comes time for dinner
Key Features:
4 Piece Rod
Quick Rod Identifier
Made in USA
Adonized Aluminum Reel seat
25 Years Guarantee
Superfine Glass Fly Rod – Best For Classic Anglers
The new Orvis Superfine Glass 2 Weight Fly Rod is the latest in fiberglass fly rods. It has been voted best of its kind by Fly Fisherman magazine and offers a professional tone while casting accurately across various terrains such as water, trees, rocks or grasses!
It  is an ideal choice for fly fishing in small creeks and rivers. It's close-range casting abilities are unmatched, which makes it great to tackle those pesky trout who like to stay near the shoreline!
The Orvis Superfine Glass 2 Weight Fly Rod has been a go-to tool of anglers using smaller streams or tight quarters where delicate casts have their place. The rod can deliver your line with precision and delicacy on one hand while being able knock out that stubborn bass on the other; this versatility is what keeps these rods at such high demand throughout time as they're perfect for every situation you might encounter during your day wading through water
Key Features :
The rest of it went in a doublet of fine cloth and velvet breeches and shoes to match for holidays, while on week-days he made a brave figure in his best homespun. He had in his house a housekeeper past forty, a niece under twenty, and a lad for the field and market-place, who used to saddle the hack as well as handle the bill-hook. The age of this gentleman of ours was bordering on fifty; he was of a hardy habit, spare, gaunt-featured, a very early riser and a great sportsman.
Unsanded S–2 fiberglass blanks
Rod tube
Cork and silver reel seats
Hard chrome Litewire stripping guide
25-Year Guarantee
Made in USA
Redington Butter Stick Fly Rod – Best for Beginners
The new Butter Stick fly rod is an awesome way to enjoy some fishing, and it's perfect for beginners. Some of us work so hard that we forget the importance of taking time off in order to recharge. This can lead you through a rough patch where your productivity dips low enough before finally coming back up again with more vigor than ever! The idea might sound difficult and like something you just don't have time for but it's actually quite simple: take a break from all things related to work by picking up this Redington BUTTER STICK 2 Weight Fly Rod instead!
It  is perfect for the delicate presentation of a small, light weight fly in tight spaces. The Redington Butter Stick Fly Rod uses T-Glass construction on their Heritage taper to make it exceptional at presenting any size or type of lightweight fishing lure with ease and delicacy no matter where they are being cast into. It's made out of durable material that can take anything fish dish out without issue while also providing an unbeatable grip thanks to its ergonomic cork handle design!
If you're looking for a way to relive your childhood, the Redington Butter Stick 2 Weight Fly Rod is just what you need. The retro cosmetics and slower action will make every day feel like throwback Thursday while giving great performance on all types of fish species that live in freshwater lakes or ponds!
The Retro-Styled Fishin' Rod That'll Take You Back To Your Childhood Days
Key Features
Final Verdict :
Now that we've covered the best fly rods, it's time to get into some of those nitty gritty details about your fishing experience. There are a few things you'll need before you go out on the water and these items will help make your day just a little bit easier. We recommend packing sunscreen, sunglasses for glare reduction, polarized lenses if possible (they reduce eye strain), sun hat or baseball cap with brim (for protection from direct light on head) bug spray in case mosquitoes decide to feast on you during lunch break, and maybe even some ear plugs because let's face it-boats can be loud! But most importantly of all is having fun while getting up close and personal with nature so don't forget your camera!