When you mention fishing rods, most people only think of spinning and baitcasting rods. However, it's important to note that there are different types of rods for different fishing techniques. These types of rods differ in size, accuracy, length, action, and power. Choosing a type of rod, especially for a beginner, is not a piece of cake. If you are not careful, you will end up with a rod that does not match your expertise. Therefore, we have discussed in detail the different types of rods for your ease.
Spinning Rod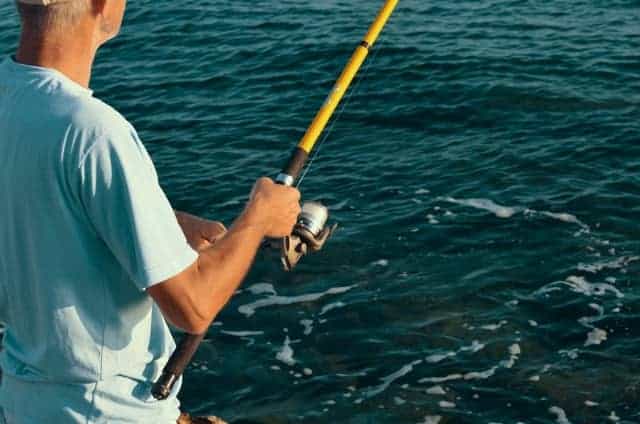 A Spinning rod is a fishing rod that uses a spinning reel. It is the most common rod among anglers. A fishing rod offers more power and stability since it gives you a chance to use your dominant hand while fishing. A spinning rod works perfectly when using light lures.
When casting and reeling in, this reel lies at the bottom end of the rod. A spinning rod is straightforward to use, and it comes in different sizes, making it perfect for different fishing situations.
Uses of Spinning Rod
This rod is used for fishing in lakes, rivers, and boats
Pros
This rod is versatile, and it comes with different weights and lengths making it ideal for different fish species.
A spinning rod is easy to control and lets you correct errors quickly.
A spinning rod is perfect for beginners and newbie anglers.
Cons
A Spinning rod is difficult to use in challenging water conditions.
It is not ideal for fish weighing 10 pounds and above.
Recommended for: Beginners and hobbyists.
Baitcasting rods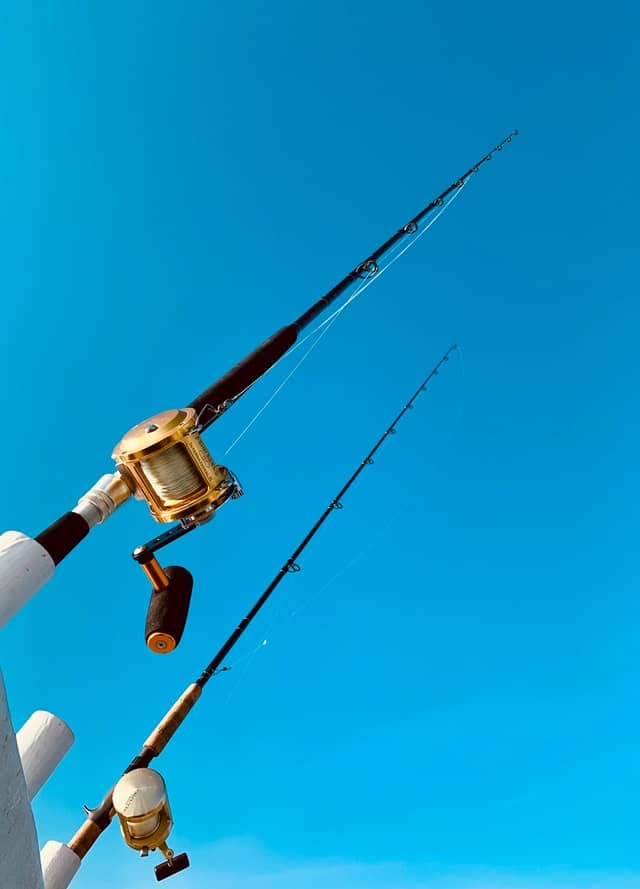 A baitcasting rod is a fishing rod that casts the line and baits with a baitcasting reel. It has one or two reels. Baitcasting reels are ideal for heavier fish species. With a baitcasting rod, you will comfortably catch 10 pounds or more fish. A baitcasting rod can handle heavier lines. A baitcasting rod makes it possible to cast with live baits and lures. This rod also makes it possible to cast with heavier lures as compared to a spinning rod.
Uses of a baitcasting rod
A baitcasting rod can be used in fresh water and saltwater fishing and comes with the strength to handle large fish.
Pros
A baitcasting rod allows you to cast far, and they are accurate.
A baitcasting rod lets you use multiple baits. You can try out different baits. It does not matter whether they are heavy or light; this rod can handle all.
A baitcasting rod is heavy-duty, and it is the most durable fishing rod.
Cons
A baitcasting rod is a bit pricy compared to other fishing rods.
Recommended for: Experienced anglers in saltwater.
Fly Rods
Fly rods are fishing rods explicitly made for fly fishing. Fly rods are similar to spinning rods, but they differ a bit. A fly rod is usually lighter compared to other fishing rods. This rod has guides, reels seats, and a handle. The rod and reel seat is found at the lower end of the rod. Fly fishing rods come in different lengths and sizes, so they are perfect for different fish species. Fly rods are longer than baitcasting rods and spinning rods; they usually range between 9 to 14 feet.
Uses of fly rods
These rods are used for fly fishing.
Fly rods are perfect for trout fishing and salmon fishing.
Pros
Fly rods help you learn a unique fishing technique
This rod helps you to delicately present lures to fish that are impossible with other rods.
Cons
Learning the fly fishing skill is difficult.
Fly fishing rods can be pricy compared to spinning rods.
Recommended for: Experienced anglers in fly fishing
Ultralight Rods
Ultra-light rods are very light rods, as the name suggests. These rods are perfect for catching small fish species in shallow waters. The most common species are trout, perch, and panfish. This rod casts lures of between 1/32 and ¼ oz. The ultralight rod needs a light backbone power and works with lightweight lines.
Uses of An Ultralight rod
The ultra-lightweight rod is ideal when targeting smaller fish species. The best place to use the ultralight rods is in creeks, small rivers, and ponds.
Pros
These rods are lightweight hence very comfortable.
Catching small fish is fun.
This rod is travel-friendly
Cons
This rod can break when faced with large fish.
This rod makes it challenging to cast long distances.
Recommended for: Beginners and children
Telescopic Rods
Telescopic rods are collapsible for easier transportation and storage. These rods can have many line guides depending on the sections available. These rods are made from graphite, fiberglass, and composite materials, just like other rods.
Uses of Telescopic Rod
This rod is perfect for saltwater and freshwater fishing.
This rod can be used for catching trout, salmon, bream, and bass.
Pros
These rods are easy to transport and carry
The telescopic rods are very affordable
They are versatile, and they can be used with different types of fish.
Cons
These rods can be damaged easily when opening and closing them
The multiple sections can fail quickly.
Recommended For: Anglers looking for longer casts and wide coverage area.
Trolling Rods
Trolling rods are used together with moving boats. With trolling rods, you have your lure moving through the water by the movement of your boat. Generally, these reels are stiff, and they have large reels that allow for many lines.
Uses of Trolling Rods
These rods are perfect for use while big lake fishing.
Pros
Trolling rods offer less friction under heavy drag pressure.
Cons
These rods are hard to maintain
They only work effectively when in line with the fish.
Recommended for: Anglers who prefer using boats.
Surf Rods
Surf rods are primarily used in sea fishing. The distinct feature of the surf rods is that they are relatively long with up to 14 feet in length. This extra length allows anglers to use a heavy bait rig. However, these rods are not ideal for everyone, so beginners and kids will have a hard time using them. Surf rods are cast from the surf, beach, pier, and other areas along the shore.
Uses of Surf Rods
These rods are perfect for beach fishing and shallow sea fishing.
Pros
The extra length ensures a longer casting distance.
These rods are capable of fighting hefty fish.
Cons
The surf rods are big and heavy.
Recommended for: Sea fishing
Ice Fishing Rods
Ice fishing rods can be referred to as short spinning rods. Their lengths are about two feet making them unsuitable for other fishing techniques. These rods let the angler reel from above the ice fishing hole. These rods are only for ice fishing, and they are great at it. They have the strength required to fight large fish under the ice.
Uses of Ice Fishing Rods :
They are perfect for ice fishing.
Pros
Ice fishing rods are very sensitive, and they allow you to feel every movement.
These rods are apt with enough strength to fight heavy fish.
Cons
They cannot be used for other fishing applications
Recommended for: Pro anglers experienced in ice fishing
Overhead Rods
Overhead rods are used when fishing from boats. These rods come with reels on top of the rod, and the guides are positioned close together so that the line doesn't touch the rod blank. The overhead rods have enough power to fight big fish like marlin, tuna, and sailfish.
Uses of overhead rods
These rods are ideal for deep-sea fishing.
Pros
These rods offer large grips
They have the power to fight heavy fish species.
Cons
These rods are a little pricy
Recommended for: Saltwater fishing
Kids Rods
As the name suggests, kids' rods are rods meant for kids. These rods are shorter than most rods and lighter. This makes them perfect for kids so kids can comfortably handle them and fish without getting too tired.
Uses of Kids Rods
The rods are used for fishing small fish species
Pros
These rods are lightweight hence comfortable for children
The kids' rods work perfectly for small fish species.
Cons
These rods can break under pressure.
Recommended for: Children and adults looking for very light rods.
Types of Fishing Rods by Number of Pieces
Fishing rods are different in many ways. You can easily differentiate rods by the number of pieces. The two-piece, three-piece, and four-piece rods are usually meant to ease the transportation and storage of rods.
1 Piece Rod
A one-piece rod is uncollapsible. It remains in one piece. These rods are more sensitive and lets you feel the vibration on the rod better. However, for a one-piece rod, it gets challenging to travel with it and store it.
Two-piece Rod
The two-piece rod is a rod that is collapsible in two pieces. These rods are easy to transport and store since you can break them and put them in your bag. However, these rods have the downside of unintended separation and stuck rods. The parts can be separated or stick together.
Three-piece Rods
Three-piece rods have two ferrules. These rods are usually long, so they are perfect for anglers looking to cover more ground. The advantage of these rods is in storage and transportation. These rods are also easy to assemble since you do not need a stripper on the handle.
Four-piece Rod
The four-piece rod consists of three ferrules, and just like the three-piece rod, it is easy to transport and store. Most of these rods are for surf fishing since they are incredibly long. Trod is ideal for small fish, and they are very precise. Additionally, they provide enough power for brisk winds and heavy current. However, with these rods, you may experience stuck rods.
Types of Rods By Material
Fishing rods are made of different materials. The commonly used materials include fiberglass, graphite, composite, and bamboo.
These materials determine the quality, price, and durability of fishing rods.
Fiber Glass Rods
Fiber Glass rods are the least expensive. Compared to graphite rods, they are heavier. Due to their heavyweight, these rods are ideal for large fish species. However, these rods are stiff, and they can cause fish to break off.
Graphite Rods
Graphite rods are common due to their lightweight nature and strength. These rods are ideal for anglers looking for rods that can deliver high performance. Graphite rods are fast action and bend more at the top end of the rod. They are more expensive than fiberglass rods and composite rods.
Composite Rods
Composite rods are a mix of fiberglass and graphite. Their performance is also between the two materials. Additionally, these rods are cheaper than graphite rods but more expensive than fiberglass rods.
Bamboo Rods
This classic rod material is known for smooth casting and fighting fish. This material is not common but, you could find an angler or two looking for old fishing materials.
Types of Rods by Action and Power
Action and power determine how a rod behaves under pressure. Power refers to a rod's stiffness and resistance to bending, and it varies between ultra-light, light, medium, heavy and extra heavy.
Power Types
Ultra-Light
Ultralight power rods are ideal for ultralight test lines and light lures. Their ideal lures are 1/32 to 3/8oz.
These rods are ideal for crappie, small trout, and panfish.
Light
These rods are ideal for lures in the 1/16ounce range. These rods have a soft feel and allow for a proper hook set for light-biting fish like panfish, walleye, and trout.
Medium Light
Medium-light power rods are perfect for lures ranging between 1/8 to ½ ounces. It can be used in both freshwaters and salt waters. These rods are stiffer and allow for quick hook sets with soft plastics and jigs.
Medium
Medium power rods work with lures ranging from ¼ to ¾ oz. These rods can be used in both salt and freshwaters. The medium stiffness helps in proper hook sets.
Medium-Heavy
This is the most common rod among bass boats. This rod is stiff enough for jig fishing, and it comes with wide gap hooks.
Heavy
The heavy power rods are stiffer than the medium-heavy rods, and they work with lures ranging between 3/3 to 1 ounce. They are ideal for heavier football jigs and lures. They can also be used for deep structure fishing.
Extra Heavy
The Extra heavy power rods can load extremely quick hook sets. This rod works perfectly with lures between ½ and 2 ounces.
Rods Action Types
Action is the ability of a rod to bend and go back to its original form. In short, a rod's action refers to its flexibility. The different actions include extra fast, fast, moderate, and slow.
Extra-Fast Action Rods
The extra first action rods are stiffer and more sensitive since they send vibration to your hand faster. Therefore, with these rods, you can detect small baits. These rods also help access the power of the blank.
Fast Action Fishing Rod
A fast-action rod bends slightly. This rod is meant for large game fishing or fishing in heavy cover areas. You can hook powerfully, and they offer more sensitivity and flex than the extra-fast action rods.
Moderate Fast Action
The moderate fast action rods bend over 1/3 of the length of the rod. This rod offers better sensitivity and hooks setting capability than the moderate-action rod. This rod is ideal for presenting single-hook moving lures like swim jigs, bladed jigs, and spinnerbaits.
Moderate Action
A moderate fishing rod bends in the top half of its length so that you can fish for both large and small fish species with this rod. You get to enjoy a wide range of fishing situations, and they offer a little more casting distance and provide plenty of hook setting power.
Slow Action
A slow-action rod bends throughout the whole length. Therefore, it provides the most flexible action. These rods are used for small fish like panfish, and they give the angler enough fighting power.
Spinning Rods vs. Casting Rods
Choosing between spinning rods and casting rods can be challenging mainly because these two rods offer superior performance. The best rod for you will be determined by the type of fish you are eyeing and the skill level.
In a  baitcasting rod, the baitcasting reel and rod guides are usually facing upwards. While in the spinning rod, the spinning reel is held under the rod with guides are facing downwards.
A baitcasting rod has a trigger below the handle to hold on to when you palm the reel. On the other hand, spinning rods' handles are straight, and they do not have a trigger because the stem of the reel connects it t the reel foot so the angler can maintain a firm grip.
The guides of a baitcasting rod are small, and they move from the butt to the tip. The same applies to the spinning rod, but the first guide from the reel is large to corral the line that comes off in coils.
Baitcasting rods are built for large and heavier fish and lures. In contrast, spinning rods are meant for smaller fish species.
Baitcasting rods are a little complicated to use, and they are ideal for experienced anglers. Spinning rods are easy to use and are perfect for beginners and hobbyists.
Trolling Rod vs. Casting Rod
Although trolling rods and baitcasting rods are meant for larger fish species, the two rods are pretty different. Here are some of the differences.
A baitcasting rod uses a bait caster reel, and you can use different combinations of power and action. On the other hand, a trolling rod uses a trolling reel, and it's usually medium-heavy or heavy power with different types of action.
A trolling rod is usually longer since it is meant for big game fishing. In contrast, although not as long as trolling rods, baitcasting rods are long, and their lengths mainly affect their casting.
Trolling rod baits are usually simple and brightly colored since the lure's sheer speed tricks the fish. The casting rods lures are more elaborate since they are meant to attract fish.
When trolling using the boat, you can fix multiple rods to the boat. While in bat casting, this is not possible.
How to pick the Right Type of Fishing Rod
1. Fishing technique-
Picking the correct type of fishing rod will be determined by the fishing technique. The rod you use for surf fishing is different from the rod used for ice fishing. Understanding your fishing technique will help you choose the right type of rod.
2. Fish Species-
Different fish species determine what type of rod to use. Some species have a higher fighting power than others so, before exploring new grounds and trying out new species, make sure the rod can withstand their fighting.
3.Performance-
The type of fishing rod you choose should depict superior performance. The performance of a rod determines its effectiveness in catching fish.
4. Ease of use :
When picking a fishing rod, you should also ensure that it's easy to use. As an angler, you need a rod you are comfortable using.
Final Verdict
To get a good fishing rod, you need to be patient enough and understand the different types. Most of the time, people leave negative reviews after purchasing fishing rods since they do not understand how to use them. To get the best results while fishing, use the right rod. If you are ice fishing, use an ice fishing rod, which applies to all fishing techniques. Most anglers use different types of rods before they become pros, so if you are a beginner, be patient with the process, and in no time, you will identify the fishing technique and rod that works best for you.