Fishing for catfish may require a bit different fishing gear and tackle. It's simply because of their anatomy. Catfish have thicker, harder mouths compared to the soft tissue of most species. Combine this with their strength, size, and habitat and it becomes clear that you'll need a bit stronger hooks and setup. When picking your hooks, it's also important to consider what catfish type are you going for and what type of bait are you going to use. There are a few hook types that work well with various catfish species, and we've select the Top 5 Catfish Hooks for you.
Top 5 Hooks for Catfishing
1.Croch 150 Pack Octopus Circle Hooks Offset Point
These high carbon steel, corrosion-resistant hooks come in 6 sizes, from #1 to 5/0. Its offset tip and swept-back eye, make it easier to connect with fish lips instead of going deeper inside. High carbon steel material makes them strong enough for all catfish types, whether you prefer drifting, trolling, or tight lining technique. They are great for setting live baits because they allow a lot of freedom of movement. That's convenient for catching channel or flathead catfish.
2.Pheanto Circle Offset Saltwater Fishing Hooks
These hooks are made using high carbon steel and coated with black nickel, which makes them stronger and more durable. They come as 100 piece packages in 5 sizes: #1,#2, 1/0,2/0, and 3/0.  Circle hook shape prevents the fish from swallowing it, so you have a better chance of hooking it the right way. They work well for channel, blues, and flathead catfish. This design makes it easier to use worms and other plastic baits. With these hooks, you get good versatility because they are also ready for saltwater use. Whether you prefer trolling, casting, or jugging these hooks are going to make your fishing easier.
3.Pheanto Bass Fishing Hooks  Offset
These hooks are also made from high carbon steel and nickel coating which means they can handle a lot of stress. They come as 200 piece boxes in 5 different sizes ranging from 1/0 to 5/0. Made for both saltwater and freshwater fishing, you won't be constricted to just catfishing. It's a Kahle-type hook. This means you can fit various types of baits including live baits, prepared baits, plastic baits, and others. They are best for larger channel cats and medium to large-sized blues and flatheads.
4. Catfish Sumo Catfishing Sweeper Hooks
Razor-sharp hooks made from forged steel with offset tip to make sure it hooks as tight as possible. 25 hooks pack poses the best value for money. The closed eye serves as protection to your line, and black nickel coating ensures corrosion resistance and extended durability.
They are available in all sizes to choose from, depending on your needs. It's a great hook for big flatheads because it's strong and tough to swallow too deep. Due to its shape, you can fit even larger baits. Nevertheless, they still maintain an affordable price.
5.Catfish DBG-3-07 Dip Bait Worm
For all of you that love using dip baits for catfishing. These are perfect when going after channel cats. Bigger ones can even be used for flatheads. They come pre-rigged, so you can spend a lot of time fishing instead of rebaiting. For smaller cats, you can go with size 8, for medium ones go for 6 as standard, and for the bigger ones size 2 should do the job. They aren't expensive so you can grab a few and try them for yourself.
How to choose the best hook for catfish – buying guide
As we've promised, here are some things you want to consider while selecting the best catfish hooks for you.
Construction and Material
Today you can find many different metals and composite hooks for catfishing. Stainless steel hooks are the most popular because of their strength, durability, and corrosion resistance. High Carbon steel hooks are even stronger, but they cost a bit more. Vanadium alloy hooks are also pretty strong, you also won't make a mistake if you choose one. There are even gold plated hooks since gold is a great corrosion protector. Nickel-plated hooks are becoming more popular because of their increased resistance and affordable price.
For catfishing going for stainless steel or high carbon, a steel hook is generally recommended.
Type
There are also many catfish hook types, but we will mention the most widely used one. Your hook type should be based on your preferred catfish type and size. Here are some of the best catfish hook types:
Treble hooks- pretty common catfish hooks, they work the best on channel cats
Kahle Hooks- something in between the circle and J-hook, best for medium to larger size blues and flatheads
J-hooks –
Circle Hooks
Octopus Hooks- they are similar to Kahle hooks, but a bit more rounded. Great for live bait and channel and flathead cats
Size
The size of the hooks can be denoted differently. For example, it can be marked with numbers like 4,8,10. In this instance the higher the number, the smaller the hook. Another way of sizing fishing hooks is by Aught scale, which looks like this 1/0,5/0 and so on. In this case the larger the first number, the larger the hook.
Your hook needs to be big enough to hold the fish, and yet small enough to stay invisible to it.
Durability
Because catfish can grow so large and have a tough mouth, you need a very strong hook to reel them in. Normal hooks wouldn't cut it when it comes to larger cats. That's the reason many pick thicker hooks such as 2X or 4X hooks.
Sharpness
To be able to connect properly your catfish hook needs to be extremely sharp. Standard ones just can't penetrate the inside of a catfish mouth. When choosing a catfish hook, make sure to check tip sharpness, as it can make the difference between a full and empty fridge.
Price
If you want to save money, there isn't a lot of room for it when it comes to catfish hooks. You'll be better off by picking some decent quality, that will serve you longer. Take another look at our list, since we've found the best hooks that won't empty your budget. If you, however, decide to buy some cheaper, Chinese ones, you'll soon be shopping again. And since the catfish are so strong, you'll probably need to repair your hooks more often, and that will also cost a bit.
Different Types of Catfish Hook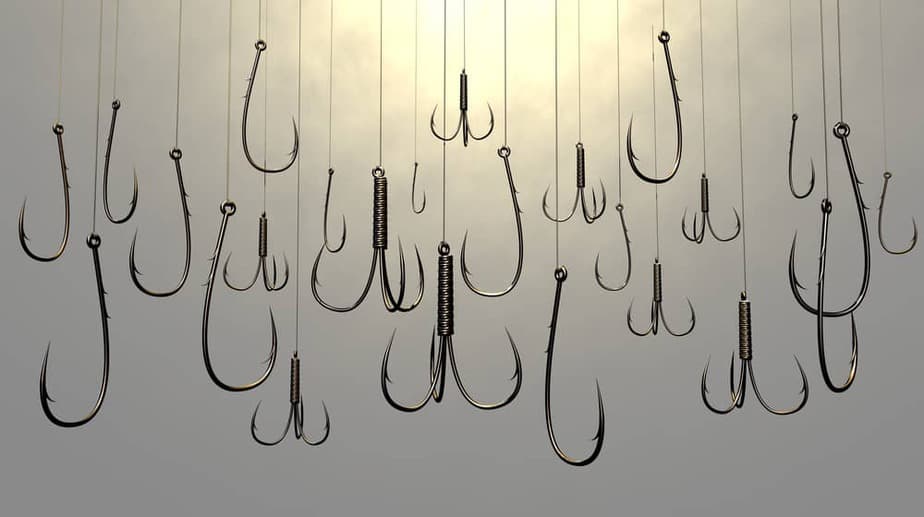 Here we will go a bit more in-depth on the various catfish hook types, to give you a better foundation when you pick your hooks.
Circle Hooks For Catfish (Big Cats)
Circle hooks are the most used hook type when it comes to larger blue or flathead cats. They have almost completely replaced J-hooks. When using this hook, it's important to get the right hook size and to use it correctly. If used so, they have proven to be the most effective type of hook for the big cats. For large cats go for size no smaller than 7/0, as it gives the optimal performance. It's also a great hook for catch and release because it has a lower chance of deep hooking the fish.
Flathead Catfish Hooks
Hooks that work well on big blue cats also can be used for flatheads. Size 8 or above circle hook will give you everything you need while battling these monsters. J-hook is also a solid choice for flathead heads, even though it isn't as good as a circle hook. A larger J hook will also help pull the larger cats. Kahle hook is also a good choice for medium to large-sized flatheads. Its design gives it enough strength, a good hooking ability, and good bait setting options.
Blue Catfish Hooks
A few years back J-hook was the go-to hook for blue catfishing. Today it's mainly replaced by circle hooks and their variations. It does the job for you. You just need to pick the right size. If the hook is too small it can't roll and take a good position inside the mouth. A circle hook can appear too big when you look at it, and that's the reason many anglers go for the smaller one.
Kahle hooks are also a good choice, sometimes even outperforming circle hooks. For smaller,10 to 20 lbs blue cats, you can go with size 4 or 5. For the trophy, one goes with 7 or 8 at least.
Channel Catfish Hooks
Fishing for channel cats will often result in catches between 1 and 5 pounds, and 5 to 10-pound cats on occasion. For this catfish size and type, the most common hook type is a treble hook. It's most often combined with a prepared, or so-called "stink bait". As far as the size of the hook is concerned, the #6 hook will work the best in most scenarios. By getting smaller hooks than this, you risk catching a lot of small, illegal size cats.
Dip Bait Hooks for catfish
Treble hooks are the most common choice when using dip baits. Dip worms, dip tubes are put on a treble hook to catch channel cats. You can also use Kahle hooks with dip baits, as they can connect very well. To save money you can buy a felt hat sponge, and put it on a treble hook. That way you get a very good substitute for plastic worms and tubes.
Triple thread catfish hook
Triple thread catfish hook is a hybrid hook made by White Seeker Tackle. It was designed to combine all of the thighs needed for optimal catfishing results. Some of its features are:
Chemically sharpened tip
Very heavy gauge to handle trophy cats
Upturned eye
Really wide gap
Offset design
They come in 3 sizes 6/0,8/0 and 10/0. For smaller cats up to 5 pounds size 6/0 is a great choice. Size 8/0 is the most versatile and works well for 5-pound catfish as well as trophy size.
For the biggest beast size, 10/0 is unparalleled. It's strong enough to withstand the power of any river monster.
J hooks for catfish
Their shape resembles the letter J. These are the best ones if you are using a float. In that case, J-hook can be set better than a circle hook. On other occasions circle would be a better choice. Nowadays, circle hooks are more popular, because they hook easier and do less damage.
Treble hook for catfish
Treble hooks are commonly used for channel catfish. They work well with prepared od dip baits. Make sure you don't get some cheap imported ones because they easily break. Instead, go for trusted brands Eagle Claw or Team Catfish. And make sure to pick  4X or 6X hooks, which means they are 4 and 6 times as strong. The best treble hook size for channel catfish is #6 because it covers all of their sizes with good performance.
Octopus hook for catfish
Octopus is a great choice when using living baits, as it offers more freedom of movement than traditional circle hooks. This works great with channels and flatheads. They are similar to circle or Kahle hooks, but with the eye bent backward. It's also widely used when drifting.
How to choose the correct size Catfish Hook?
The size of a hook need depends on the type of the hook, and the size of the catfish you're after. We've already mentioned what sizes to pick from so to sum it up :
Treble hooks – sizes #4 and #6 are the best for channel cats, you can pick up a size #2 for smaller blues
Circle hooks – 5/0 or 6/0 is the best for medium channel cats, for larger blues and flats don't go smaller than 7
Kahle hooks – size 2/0 or 3/0 is good for channel cats, for medium blues go 5/0, and for the larger 6/0 and above
This is our recommendation based on our long fishing experience. You can always pick a size you see fit and test for yourself, which can be the only way you'll know for sure.
How do you bait a catfish hook?
Catfish are not too choosy when it comes to feeding. They are well-known omnivores, meaning they eat pretty much anything from plants to smaller fish. Nevertheless, it doesn't mean you'll catch them easily.  Here are some baits that are proven to work well for catching catfish:
Worms
Shads and herrings
Stink bait
Shrimp, stale chicken, or anything with a strong smell
For more details on how to best use each type of baits and suggestions on what are the best baits to buy, check our article about catfish baits buyers guide.
10. Best Rods for catfish hook
If you want to make sure you stand a chance against these monsters, you'll need a strong catfish rod to match. The type, length, and material of the rod you'll want to use are also dependent on what size and type of catfish are you after.
Using bigger circles or Kahle hooks for big flatheads and blues will also require longer fiberglass or composite type of rod. Channel catfish aren't as demanding, so you can pick lighter graphite rods. For detailed information on what type of rods to use be sure to check our Best Catfish Rods article.
9. Frequently Asked Questions :
How can you set the hook on Catfish?
If you are using circle hooks setting them won't be a problem for you. Simply engage the reel, which tightens the line, and let it bite. When the cat bites let the circle hook do the job. It will turn and hook on the lip, that way catfish practically hooks itself.
For a treble hook simply toss it in the water. When the fish bites and starts to swim away the rod will bend and start the reeling process.
Can a Catfish Survive with a hook?
As long as the hook isn't swallowed deep, the catfish can survive. Be sure to gently pull out the hook, without damaging the mouth and lips. In case the hook gets swallowed deeper, cut the line and let the catfish go. That way it has the best chance of surviving. Trying to pull out a deep hook can only result in worse internal damage and should be always avoided.
How deep should my hook be for catfish?
Professional fishermen often record depths at which they have caught catfish. This allows us to easily determine the range of depths that's best suited for catfishing. In lakes, the optimal depth is between 15 and 20 feet. This is known as their zone because a large number of catfish inhabitants them in most lakes. The depth at which the catfish reside is largely influenced by water temperature. There is no certainty when it comes to what depths are the best, especially in large rivers. But it is known that you can catch pretty big ones in shallow water at night time.
What are the other tackles for catfish?
Reel
A good catfish reel is a key point in your catfishing setup. Matching a good catfishing rod, reel with hooks and baits vastly improves your chances of landing a big catch. The type of reel you want to use depends on the type of catfish and your rod choice. Whether you chose a spinning or casting rod, you'll need to match with the right type of reel. Generally, spinning setups are used for smaller channel cats, with baitcasting for bigger flatheads and blues.
Foam Floats
Floats are also a useful part of the catfishing tackle. They are placed a little above the hook. floats help lift the bait off the bottom and keep it out of the muddy surface. Size 2 is good for channel catfish, and for bigger ones you can be comfortable with size 3.
Swivels
Swivels prevent the line from twisting and entangling your rig. They also reduce the chance of line breaking when fighting trophy cats. The two most common types of swivels are ball-bearing and barrel swivels. Ball-bearing ones are more expensive but more durable.
Weights
Weights keep your bait and hook down. There is no consensus about the perfect weight size, so you have to test it out for yourself. But for starters use some of our suggestions and see how it works out for you:
Channel catfish – use a minimal amount of weights
Blue and flathead – 1.5 to 2 oz weights will be enough in most cases
Final Verdict:
Even though hooks are a very small part of your setup, compared to a rod or a reel, it's key to having many successful catches. Try out the ones we selected for you and follow our guide on how to choose the best one depending on your needs. Grab your rig and test your luck!