Catching catfish is always fun. With the right equipment, you can take your fun to the next level. You may catch small size catfish with any ordinary set up. However, if you are going to catch monster cats, you may need strong and durable rods, reels and tackles. Whether you want to fish small, medium, or giants size catfish, we have covered the perfect gear for you considering any types of situations.
Top 10 Catfish Reels for the money [ 2022 Review]
Image
Product
Features
Action

Premium Choice

PENN Squall II Level Wind

Gear Ratio : 4.9:1
Max Drag (LB) : 33
Ball Bearing : 3+1

Check Latest Price

High-End

Abu Garcia Ambassadeur SX Baitcast

Gear Ratio : 5.3P:1
Max Drag (LB) : 12
Ball Bearing : 4

Check Latest Price
Lew's Speed Casting Reel

Gear Ratio : 5.3:1
Ball Bearing : 4+1
Model : SC600

Check Latest Price

Best Budget Friendly

KastKing Summer And Centron Spinning Reels

Gear Ratio : 5.2:1
Max Drag (LB) : 11
Ball Bearing : 9+1

Check Latest Price

Best Overall

KastKing Rover Round Baitcasting Reel

Gear Ratio : 3.6:1 
Max Drag (LB) : 30
Ball Bearing : 4+1

Check Latest Price
KastKing Royale Legend GT Baitcasting Reels

Gear Ratio : 7.2:1
Max Drag (LB) : 17.64
Ball Bearing : 5+1

Check Latest Price
Okuma Cold Water Linecounter Reel

Gear Ratio : 4.2:1
Max Drag (LB) : 20
Ball Bearing : 2+1

Check Latest Price

Best Spinning Reel for Catfish

KastKing Sharky III Spinning Reel

Gear Ratio : 5.2:1
Max Drag (LB) : 39.5
Ball Bearing : 10+1

Check Latest Price
Piscifun Chaos XS Round Reel

Gear Ratio : 5.3:1
Max Drag (LB) : 18
Ball Bearing : 6+1

Check Latest Price
Ming Yang Black CL60 Baitcast Reel

Gear Ratio : 4.2:1
Max Drag (LB) : 18
Ball Bearing : 2+1

Check Latest Price
1. Penn Squall II Level Wind
A solid level wind trolling reel made for handling the big ones. Constructed with graphite body and side panels to reduce weight and improve structural integrity. Marine-grade bronze alloy main gear with 2 stainless steel ball bearings and instant anti-reverse bearing further improve smooth feel and durability. Stainless steel pinion gear coupled paired with a carbon fiber drag system make the reel as smooth as it gets.
Pros:
Durable, built for saltwater so you won't have a problem with catfishing
Inexpensive, great reel for about a 100$
It can easily handle different types of lines
Lightweight
No backlash
Good line capacity
Cons:
Doesn't come with many additional features 
Even though it's  lightweight, it's a bit on the bigger side 
2. Abu Garcia Ambassadeur SX Baitcast
If you want to have one good all-purpose reel – this might be it. Offering a great combination of power, reliability, and versatility for any catfish type and size. Featuring a multi-disk drag system for a silky smooth and uniform reeling experience. A machined aluminum handle will give you enough power and bring you closer to the battle. The synchronized wind system line handling and casting action. 3 stainless steel ball bearings with additional roller bearing guarantee a smooth and easy reeling. 5.3 gear ratio.
Pros:
The aluminum handle gives great control when fighting bigger fish
Smooth retrieve and drag
Handle cats up to 30lbs with ease
Reliable
Great price point
Cons:
A bit heavier than more modern reels
It's not made in Sweden anymore, not that it makes a significant difference, it's just something users haven't been pleased with
3. Lew's Speed Casting Reel
This reel is made of its aluminum frame and sides as well as an anodized aluminum spool. 4 stainless steel ball bearings with one anti-reverse bearing ensure smooth reeling and stopping. A large 100mm handles with EVA oversized grips guarantee a firm grip and direct control over the reel. Six pins centrifugal braking system with carbon fiber drag gives needed strength while reeling your cats. With a 15lbs maximum drag stoppage, it's a middle-tier reel, with good capabilities. It has a 5.3:1 gear ratio which is good for catfishing. Going for 20-30lbs flatheads and larger channel cats won't be a problem with this one.
Pros:
Smoother than many more expensive reels
Great grip 
Long casting
Very tough and durable, it can outlast similar reels from Abu Garcia or Daiwa
Reasonably priced, it's not the cheapest on the list, but it's still an affordable reel
Large line capacity
Cons:
Some report that drag washer doesn't hold for long, but this is very rare and shouldn't influence your decision
4. KastKing Summer and Centron Spinning Reels
KastKing's Summer and Centron Spinning reels are lightweight graphite reels, fitted with a lot of options. With toughened metal shaft, mesh drive gear, and machined pinion gear it provides good fishing power. You get up to 17.5 lbs of stopping power. A total of 9 ball bearings and one instant anti-reverse bearing extra smooth performance is guaranteed. The beautiful design, anodized aluminum spool, and power launch lip make you think it's priced in a higher bracket. It is a good choice when going after channel cats, and smaller flats and blues. Considering it's a spinning reel, it's great for beginners.
Pros:
Affordable, half the price of some baitcasting reels
Easy and fun to use for beginners
Appealing design
Decent power 
Cons:
Not suitable for bigger trophy cats
5. KastKing Rover Round Baitcasting Reel
The new Kastking Rover Round reel has been reinforced with anodized aluminum side plates, brass gears, and stainless steel shaft. Its new carbon fiber drag system makes it even more powerful, giving you up to 30lbs of smooth drag. Now offering a large choice when it comes to sizes, from 40 to 90. They come with double-shielded aluminum ball bearings. It's suitable for many fishing techniques, making it an excellent catfish reel. With large EVA grips and an easy access spool release, it's very convenient to use. 3.6:1 gear ratio.
Pros:
Powerful and sturdy, it can easily handle big fish and compete with a lot more expensive reels
Large line capacity
Convenient to use 
Very accurate
Versatile can be used for different fishing techniques
Cons:
It's a bit heavier reel 
Isn't convenient for beginners
6. KastKing Royale Legend GT Baitcasting Reels
The new KastKing Royal Legend combines great looks, excellent performance, and comfort while maintaining a quite affordable price. Besides the great looks, the low-profile design makes this reel good for a variety of uses and improves your fishing experience. The "Grand Touch" handles are pretty large, making the reel in even easier and more fun than ever. With a total weight of just 7.2lbs, it's significantly lighter than the competition. 5 + 1 double-shielded stainless steel bearings with cut brass main gear, pinion gear, and shaft combined with 7.2:1 gear ratio provide smooth and quick reels. Add on a quadruple disc carbon drag and a maximum of 17.6lbs of drag and you get one hell of a reel.
Pros:
Affordable price
Very high-speed performance
Good braking system
Lightweight 
Cons:
The spool is a bit small, so it can put a dent on the retrieval when turning
Not as durable as other options on the list
7. Okuma Cold Water Linecounter Reel
This Okuma reel is contracted to offer substantial drag power. Incorporating a full carbon drag system, machine-cut brass pinion gears, and dual anti-reverse module. Okuma's Mechanical Stabilizing System guarantees a tight seal for all the internal components. Together with self-lubricating gears, this ensures long-term machine-cut durability and component alignment. Anodized aluminum spool and aluminum handle help reduce the weight. A large Ergo handle knob is designed to give both more strength and responsiveness. A maximum drag of 20lbs will be more than enough to win a battle with large cats. 5.1 4.2 gear ratio
Pros:
Outstanding quality gives a sense of far more expensive and bigger reel 
Very smooth operation 
Fit for various fishing techniques, even bumping
Accurate counter
Cons:
Slightly smaller spool, so it takes a little effort to put the line back
8. KastKing Sharky III Spinning Reel
This reel is a nightmare for trophy fish. Built with reinforced carbon and fiber body and rotor, it maintains lightweight, while being very powerful. Triple disc carbon fiber drag system, stainless steel shaft, and brass pinion gears are the core of its strength. 10+1 double-shielded anti-corrosive ball bearings together with instant lock anti-reverse and big line capacity are really what sets this reel apart. Ideal for handling the big cats such as trophy flats and blues, with it's 39.5lbs of maximum drag. Sharky III has a unique K.I.S.S protection design meant to keep all the water and impurities out.
Pros:
Comes in various sizes
Graphite body, compared to other competitors that use metal ones
Excellent choice for big fish
Inexpensive gives a great value for the money
Cons:
Some users reported that line retrieval isn't as good 
9. Piscifun Chaos XS Round Reel
Featuring CNC carved anti-skip aluminum spool, stainless steel body, and handle it provides maximum durability. A carbon fiber drag system paired with a cut brass the main bearing offers great stopping power of up to 20lbs. 6+1 corrosion-proof bearings and forged elongated handle ensure even smoother drag. Even though it's round, it's kept a low profile which will make your casting and holding easier. It has great versatility, making it a great catfishing reel. 5.3:1 gear ratio 
Pros:
Very smooth reeling 
Great line capacity
Small size, ideal for channel catfishing 
Affordable price
Cons:
Some people reported issues with gear quality, but it isn't as common
A bit quiet clicker
10. Ming Yang Black CL60 Baitcast Reel
Another great catfish reel for the money. It may not be as good-looking as others, but it will certainly do a good job. Anodized aluminum sides, machined aluminum spool, and smooth main gear system will make you think it costs a lot more. 3 ball bearing and 4.2:1 gear ratio will give enough firepower when going for a medium to bigger size cats. Dual centrifugal brake systems guarantees to stop the line in no time. 
Pros:
Smooth reeling
Strong enough to handle blue and flathead catfish
Long cast
Good quality for the money 
Affordable
Cons:
Some of the users reported it locks up, but it isn't as common
Looking for perfect rod and reel for catfishing ? Check out our content on the Best Catfish Rod and Reel Combo
What to look for in a catfish Reels ( Buyers Guide)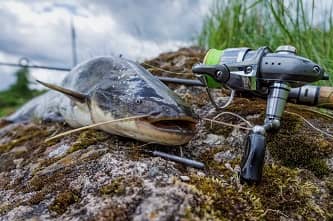 First of all, let's make a distinction between the types of fishing reels.
There are 3 different types of fishing reels :
Spinning reels
Spin-cast reels 
Bait-cast reels.
Each of the 3 types works based on the same principle – turning the reel handle pulls the line and the catfish towards you.
Everything else sets them apart, so it's important to know when to go for each type.
This doesn't mean you should throw away reels that you already have. They can probably still be used to help catch your favorite cats.
Understanding these differences will help you make a good purchase in the future.
Here are some things you want to look into to make sure you get the best catfishing reel for your way of use.
Line Capacity 
This is an important thing to think about before purchasing your catfish reel. For drift fishing, deep water fishing, and trophy cats you will need a much stronger and thicker line and long line. 
In that case, a low profile reel can make your job a lot harder, since it can't hold as much line and you will be replacing it frequently. In this case, a round baitcasting reel would be the optimal choice, because you can use the extra line length and strength.
Braking System
The role of the reel's braking system is to slow down the spool using magnets. When choosing a reel you need to make sure it has a good braking system to prevent backlashes. A backlash happens when your spool moves faster than the, and it's not something that should happen. 
Drag System
This part of your reel is what makes it possible to reel in the big fish. When the fish tries to run away, drag systems slows the spool and let it turn away from you. Without this, the line would snap under too much tension. So don't sacrifice this part of the reel for other benefits. Carbon fiber drag systems are the most popular and have proven to be the most effective. After choosing the reel with a good drag system, you need to learn how to use it the right way.
Gear ratio 
The gear ratio tells the length of the line that's reeled in a single turn. It shows how fast can you reel it in. The higher the ratio the faster the reel is. 5.3:1 to 6.1:1 gear ratio may be the sweet spot for catfish reels because it has enough torque with good retrieve speed.
Faster reels do pull more of the line, but that has to be traded off with decreasing the power.
Lower reel ratios give more power but are way too slow for handling catfish.
Reel size 
The size of the reel needed for catfish depends on what cats are you going after. If you are going after channel cats and smaller flatheads, size you can go for a smaller size reel. When choosing a spinning reel for catfishing don't go below size 40. If you want to battle trophy cats pick up a baitcasting reel, size 50 or higher.
Other Recommended Gears & Vehicles for Catfish Reels 
A good thing about catfishing is that you don't need much gear to get into it and perform well. Many companies today try to make money by advertising some special gear and trick you into thinking it's necessary. Don't be overwhelmed with various tackle gear, because it's not as complicated as some portray it to be. Here are some of the basic things you will need for your catfishing adventure.
Rods
A good reel isn't enough for successful catfishing, you also need a matching rod. Your rod choice should also be based on the fish size and type and preferred fishing techniques. For smaller channel cats you need a lighter more sensitive rod. So the good choice would be a graphite one. For bigger flats and blues, go for fiberglass or composite longer rod.  
Line
To complete your catch you also need matching thickness, length, and strength of the line. The best line is the one that works optimally with your rod and reel. There are a few line types, but the best one for catfishing is proven to be the monofilament one (or Mono for short). It's cheap, and works better with catfish rigs, not to mention it's easier to handle.
You don't need to go overboard and pick up a 60lb braided line for a 20-pound cat. A 15-pound mono line will be enough 30lb cats and smaller. For bigger cats, 30lb mono is a great choice.
Bait
Contrary to a popular belief, catfish bait doesn't have to be complicated or smelly. The important thing here is to choose a bait based on the catfish species you want to catch. Channel, blues and flatheads are different in many ways, so you need to choose the right bait for each.
For blue catfish, it's best to use fish as bait. Herring and shad are the most popular baits for them. For smaller, channel cats use prepared baits. For larger ones use dead fish such as herring or shad. For flatheads use live bait, such as brim or perch.
Hook
The mouth of a catfish differs from others. It's not soft and sensitive, instead, it's very hard and you need a sharp hook to penetrate it. They also depend on the type of bait, and size, and species of catfish you are going after. Typically for smaller channel cats, you can go for treble hooks and Kahle hooks. For larger blues and cats circle hooks are the most popular choice.
Fish Finder
Many fishermen have a problem with picking up a catfish signal on their radar. It's because they are often hidden on the bottom or in various holes and openings. This poses a large problem for beginners especially. To help with that here are some of the tested finders that proved to be more effective:
Humminbird 410970-1 ICE Helix 5 Fishfinder
Lowrance HOOK2 5 Fish Finder
Humminbird 410230-1 Helix 5 Fish Finder
Boat 
To find a good catfishing boat to match your rig, you need to consider them from a couple of aspects. Such as catfish type, location for the use, quality, people capacity, and your budget.
For catfishing, you need a stable boat as a foundation to battle big fish. Flat bottom boats are good for calm waters. If you need a faster boat go for round bottom or a v-hull. Buying a boat is similar to buying a car in a sense – the more you pay more you get. If money is no issue the best choice would be a fiberglass boat , since it's the most durable.
Baitcaster vs spinning reels for catfish
Spinning reels and setups are generally easier to use, less demanding and a great choice if you're going after smaller fish. You won't need to set the drag, because there isn't one, so you can cast as far as you want. They perform great for setting light baits and lures. You can have fun catching channel cats and smaller flats and blues.
When it comes to the long-term durability and rod choice, these are no match for baitcasting reels.
Baitcasting reels, on the other hand, are unparalleled when it comes to trophy fish. They can support heavier lures, and the drag helps you put up a fight once they bite. Optimal gear ratios for catfishing will also help a great deal. When casting from this reel, the line goes off the spool in a straight line, making cast distance and accuracy even better.
This is the most widely used type of reel, due to its versatility – they are great for catfish types and sizes and fishing methods. If you want to buy a single reel, and be efficient for different purposes this is the one.
Bumping reel for catfish 
Even though bump catfishing has caught a lot more attention in recent years, the market for bumping setups is tiny. Very few stores sell bumping gear, so if you want to make your choice easier go for spinning or casting reel.
When looking to buy a bumping setup, you need it to be as light as possible. Holding a heavy rod and reel for a day is exhausting, so a big reel and heavy rod won't do good. When picking a rod go for a graphite one, and get a reel to match. A small baitcasting reel would be the best choice. Since you're moving, you won't need much casting and a long line.
Here are some solid reel choices for bumping:
Abu Garcia Ambassadeur
Shimano Tekota
Daiwa Lexa LC
Frequently Asked Questions :
1. Can you catch catfish with baitcasting reels? 
Absolutely. Baitcasting reels are the most popular reels for catfish. Furthermore, it's recommended to go for baitcasting if you plan to catch catfish.
2. What kind of Reel should I use for catfishing?
If you want to fish for channel cats and smaller blues and flatheads, you can choose between spinning or baitcasting reels. If you want to go for trophy cats, pickup baitcasting reel since it offers more strength and options.
3. What size reel do you need for Catfish?
For smaller cats, you can go for a size 20 or 30. For medium-size cats size, 30 to 40 spinning reels will do the trick. For big cats go for a baitcasting reel, size 50 or higher.
4. What is the best gear ratio for a catfish reel?
There is no one dominant gear ratio for any fish. It all depends on other components, but for catfishing, it's safe to say the sweet spot for gear ratios is between 5.3:1 and 6.1:1.
5. Are low profile bait cast reel is good for catfish?
Low-profile baitcasting reels are an excellent choice for bumping. They are also great for some smaller to medium size catfish when using other techniques. But for the trophy fish, we would suggest going for round baitcasting reels.
6. Can I use a musky reel for catfish?
Yes. Especially if you are a beginner there is no need to spend additional money on a new reel. It will serve you well for smaller and medium-size cats, maybe even some bigger ones. If you are an experienced angler going after trophy fish, you can consider purchasing a stronger reel.
7. Can I use a Spinning reel for catfish? 
For channel cats and smaller flatheads and blues, you certainly can. It's a matter of preference in that size range. If you're after larger ones it's recommended to go for a baitcasting reel.
8. What is the best reel for big catfish?
There are many good reels for big catfish. You can even use some bigger spinning saltwater reels. But, as we've said before the best choice would be some of the baitcasting reels we've listed. Here are some of them:
1. Abu Garcia Ambassdeur
2. KastKing Rover Round Reel
3. Lew's speed casting reel
Final Verdict
 We hope this article helped you understand how to choose the right catfish reel for you, what to look after how to get the most for your money. Identify your needs, and look for the important features we've mentioned, to buy the best catfish reel for you. To get yourself a great catfish reel and rig, you don't need a lot of money, just follow our guide and you will be all set for your next adventure!