Salmon fishing is exciting for all people. Typically, most salmons are big enough to put up a good fight, which makes fishing them even more fun. However, if you don't have the right tools for the job, it might turn out to be a frustrating experience. You need to have the right reel and rod combo for the best experience. 
Today, I will show you how to choose the best rod and reel combo for salmon fishing. Later, I will review the top 5 salmon rod and reel combination. Here is a summary of the best reel and rod combos for salmon fishing if you are in a hurry.
Best Salmon Rod and Reel Combo Reviews 
Now that you know what to look for while purchasing a salmon reel and rod combo, here are my top 5 best salmon combos for the money. 
OKUMA ROX Spinning Combo 
Okuma has been in the market for quite some time, and they have provided us with some fine rods, reels, and they are back again with this combo. The combo comes with a medium/light graphite composite rod, meaning it is sensitive, lightweight, and strong. The reel comes with a machined-aluminum spool. 
Features 
As you would expect, the combo comes with some fine features, which include:
Graphite Composite Rod 
Graphite is often a common material for rods, but it often lacks enough power to handle larger catches such as salmon and catfish. For that reason, it can be blended with other materials such as carbon and fiberglass to make it tougher. The Okuma Rox rod comes with a graphite composite material, meaning it is lightweight, strong, sensitive, and you can use it for larger catches worry-free. 
EVA Grip Handles / Cork Handles 
The rod comes with EVA grip handles that are comfortable and provides a strong grip. You can hold the grips all day, and you won't develop any sores, and given that it is lightweight, you won't feel too tired. For the salmon and Steelhead dedicated combos, they come with full cork grips. This means you get even a better grip if you choose Salmon/Steelhead models.
Machined-Aluminum 2-Toned Anodized Spool 
OKUMA ROX spinning reel spool is made of aluminum, one of the best materials for reel spools. It is easy to spool with a machined-aluminum spool, and the line will be well spooled, reducing the risk of line tangles. The handle reel handle is also made of aluminum. 
Specs 
Weight: 0.8 pounds
Suggested users: Adults, both genders 
Size: from 6ft 
Action: Medium-Light 
Brand: OKUMA 
Verdict 
The OKUMA ROX spinning combo is one of the cheapest combos you will find for salmon fishing. The rod that comes with it is of high-quality, and you can use it with all types of fishing lines. The salmon model comes with full cork handles, giving you even a better grip while battling fish. 
However, the rod guides do not seem to be of the highest quality. There have been a few complaints about it not being durable enough. Still, it is worth it considering its price and what it can do. 
KastKing Centron Combo 
KastKing is one of the most established fishing gear manufacturers. They have provided us with some fine fishing reels and rods, and they don't disappoint with this combo. It comes with a graphite rod with stainless steel guides, and the reel is of high-quality. Additionally, the combo is slightly more affordable than most. 
Features 
Here are the features that come with this combo:
Graphite Medium Action Rod 
The fishing rod is designed to provide exceptional performance for all anglers. It is available in five lengths, from six feet, and they come with medium action, meaning they are quite versatile. You can use them to catch smaller fish like trout since the medium action allows more sensitivity and or for salmons as it has enough power.
For salmon fishing, I recommend opting for an 8' KastKing Centron rod. It will serve you well, regardless of your fishing location. 
9+1 Ball Bearings 
The spinning reel in this combo comes with nine ball bearings, plus one roller bearing. With such a number, you can be assured of smooth casts and retrievals. Also, the real is available in two gear ratios, 5.2:1 and 4.5:1. Either ratio is fast enough to retrieve salmons even from the shores. 
2-Piece Design + EVA Handles 
The rod comes with a fine design that makes it travel-friendly. You can dismantle it into two parts, making it easy to pack. This feature also reduces the risk of breaking the tip while traveling, a fairly common problem with most anglers. 
The rod handles are made of EVA foam, one of the finest materials for rod handles. The material is comfortable, and it provides a strong grip that comes in handy while battling hard-fighting fish.
Specs 
Weight: 1.18 kg 
Brand name: KastKing 
Size: From 6ft (rod), from 2000 (reel)
Material: graphite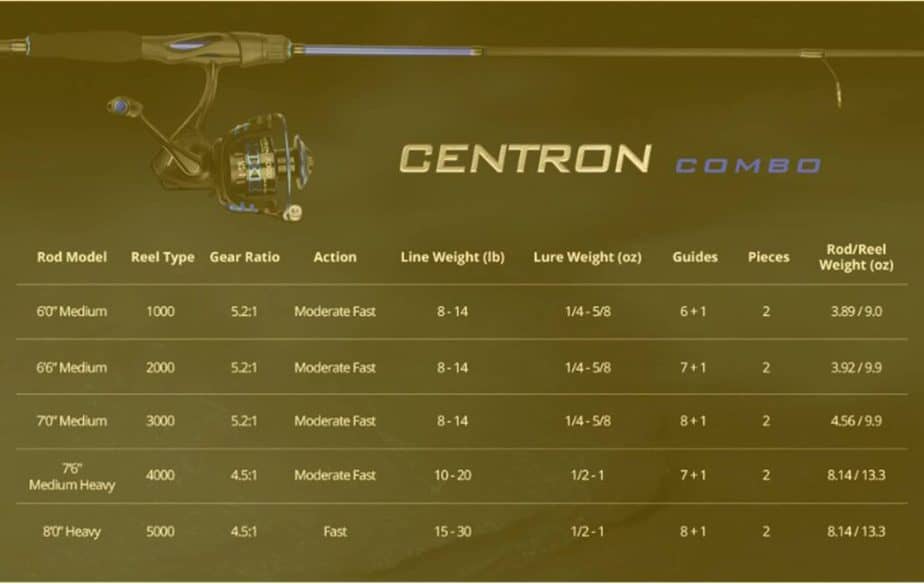 Verdict 
The KastKing Centron combo is available in different sizes, and you will find a perfect combo for whatever you plan to fish. If you plan to catch some salmon, I recommend going for an 8ft rod and a 5000 reel. 
It comes at a low price, so you won't need to spend a fortune to enjoy using it. Also, it can cast over long distances, and its accuracy has been highly acclaimed.
However, the combo is not perfect. There have been a few complaints about the rod tip, some saying it breaks easily. Also, the reel is not so good with braided lines. You will need to back it up with a monofilament line if you want it to work perfectly. Still, it is one of the best rod and reel for king salmon. You won't be disappointed with it.  
Wild Water Fly Fishing Complete Package for Steelhead/Salmon
A WILD deal for a new fly fisher! With this package you can get your hands on the basics and dive right in. Whether you are looking to compete at next year's Steelhead Festival or just want to spend the day out fishing, this package has something for all paddlers. The rod is made from 7 weight fiberglass, so it will grip strong when pulling big fish off of the shoreline but still be easy enough for smaller fish coming from a river system downstream or a small set of rapids that never required fast action like other rivers may require. In beautiful colors of dark black and lime green – we thought you would love these because they're good luck during steel head fishing – there are four pieces in total
Specs :
7 weight, 11′, 4 Piece, medium-fast action steelhead fly rod
38 ½" hard tube rod case, : 4-section cloth rod bag with ties ,
112mm diameter spool,
Waterproof, Floating, 5.25″ x 3.5″ x 1.25″, custom box design,
8 flies total,
12' 0X tapered monofilament leader,
Other accessories
OKUMA Celilo Graphite Salmon/Steelhead Spinning Rod 
The OKUMA Celilo Spinning rod has received a lot of love, and it is because of the many great features that come with it. It looks classy, and it is easy to use, plus it is lightweight, so it can be used by people of all ages.
Features 
Here are the fine features that come with this Okuma spinning rod. 
Sensitive Graphite Blank Construction 
The rod's construction materials are of the highest quality, and you can count on them in all fishing conditions. The blanks are made of graphite, making it strong, lightweight, and classy. The guides and inserts are also made of quality materials.
Aluminum Oxide Inserts 
The rod's guides are made of stainless steel, a durable and corrosion-resistant material. The guides are then complemented with aluminum oxide inserts, a material that is too smooth to cause any friction between the guides and the fishing line. With this rod, you won't need to worry the guides will wear down your fishing line. 
Quality Grade Rear Cork Grips 
If you plan to catch large fish with a habit of fighting back like salmon, you will need a rod with tight, non-slip grips. The Okuma Celilo Salmon spinning rods come with high-quality cork grips that will give you the upper hand during the battle.  
Specs

 
Weight: 0.18 kg 
Brand name: OKUMA 
Material: Graphite blanks, stainless steel guides, aluminum oxide inserts 
Suggested users: Unisex-adults
Size: 9'6"
Action: Medium-light
Number of pieces: Two 
Number of guides: 10+1 tip
Verdict 
The Okuma Celilo spinning rod casts excellently well, and you can count on it for long and accurate casts. It comes at a pocket-friendly price, and you can use it in fresh and saltwater. Additionally, the rod is lightweight and can be used by anglers of all skill levels.
However, there have been a few complaints about the durability of the rod, especially when used to land larger catches. Also, the rod action may be too stiff for some users and may be too light for people who prefer heavier rods. Still, it is an excellent rod that I recommend to all anglers. 
Orvis Encounter Outfits :
The Orvis Encounter Outfit is what Orvis describes as "affordable awesomeness." We agree. This fully rigged outfit promises great value for its performance, and it's perfect to dip your toes into fly fishing or to have around just in case you get a chance while out on the road (it weighs nothing).  The lightweight, 4-piece rod has a fast tip, which makes it easy to cast and helps younger anglers develop good technique. It features a large arbor Encounter™ reel with left- or right-hand retrieve that's ideal for youngsters,
PERFECT OUTFIT FOR YOUNGER ANGLERS – The Encounter is the perfect outfit for younger anglers. It's a 4-piece rod, which means it breaks down into smaller sections that are easier to store and transport.
– SMOOTH, CRISP PERFORMANCE – This rod has been designed with a smooth action that will give you the performance you need to land fish of all sizes. The cork handle gives you a comfortable grip so you can keep your line taut at all times.
– THE ENCOUNTER IS AFFORDABLE AWESOMENESS – If you're looking for an affordable way to get started in fly fishing or if you want a great truck rod, then look no further than the Orvis Encounter Outfit!
KastKing Rover Round Baitcasting Reel
 If You Are Looking For A Multipurpose Baitcasting Reel, You Should Consider Buying The KastKing Rover Round Baitcaster. The Reel Is Made Of High-Quality Materials, And You Can Use It In Fresh And Saltwater.
Features 
KastKing Rover Round Baitcasting Reel comes with some fine features that include:
Superior Carbon Fiber Drag 
A carbon fiber drag gives the baitcaster enough power to handle all sorts of fish, including salmons, bass, and catfish. When used with a high-quality fishing rod, you can be assured of bringing the largest salmon to the shore.
Super Smooth Casts 
The reel comes with four high-quality ball bearings, plus one roller bearing. This combination gives you a super smooth baitcaster that you can use to catch fish of all sizes. 
A Versatile Baitcaster 
This KastKing baitcaster is so versatile that you can use it for almost everything, from bottom fishing to top fishing. You can use it in freshwater and saltwater to catch fish of all sizes. Its oversized EVA grips make it easy to release the line out of the spool. 
3.6:1 Gear Ratio 
The baitcaster comes with a 3.6:1 gear ratio, meaning the spool will turn almost four times once you turn the handle once. That's not so fast, but it is still fast enough to retrieve salmons from the shore. 
Specs 
Weight: 0.48 kg 
Brand name: KastKing
Size: 60
Material: stainless steel (handle), Aluminum (reel construction)
Verdict

 
KastKing has done it once again, providing us with a high-quality product for a lower price. The reel is versatile, and it is a perfect baitcaster for experienced anglers looking for salmon baitcasters. The drag works excellently, and once paired with a high-quality rod; you can be assured of a long-lasting combo. I recommend it to all anglers. 
OKUMA Great Lakes Trolling Combo

 
Okuma is back on the list with this trolling combo perfect for salmon fishing. It comes with a medium-action rod and an easy-to-use spinning reel.  The spool can be used with all lines, and you can use the combo to catch fish weighing 30+ pounds without worrying you will break your rod.  
Features
The features of a rod and reel help a user choose the best combo for the job. Here are the features that come with the Okuma Great Lakes Combo:
E-Glass Blank Construction 
The fishing rod comes with an e-glass blank, a durable and strong material. The glass is relatively heavy and strong enough to handle even the largest salmons. 
EVA Grips Handles 
The rod handles are quite comfortable and lightweight, given that they are made of EVA foam. Therefore, even if the rod is slightly heavier, you can use it all day without developing sores.
Stainless Steel Rod Guides + Aluminum Oxide Inserts 
Stainless steel is one of the finest materials for rod guides. Most high-quality rods have stainless steel guides, so I won't be so wrong saying the OKUMA Great Lakes Trolling rod is of high-quality. Moreover, the guides come with aluminum oxide inserts, one of the smoothest materials for rod inserts. With titanium oxide inserts, you can be assured of smooth casts and durability of your fishing line since the guides will not wear it down. 
Specs 
Weight: 1.91 kg (package weight) 0.4 (item weight)
Brand name: OKUMA
Material: synthetic
Number of pieces: one 
Suggested users: Adults, Unisex 
Verdict 
This combo is perfect for trolling, and you can use it all day without feeling too tired. It is a nice setup for the price, and anyone will enjoy the perks that come with it. The only problem is it can feel slightly heavy, so it might not make a perfect gift for younger people.    
Interested in catching bass? Looking for catching more bass? Check out our guide on Top Combos for Bass fishing you should never miss.
RICHCAT Fishing Rod and Reel Combo
Make sure your fishing rod can sustain life's harsh conditions. The RICHCAT Fishing Rod and Reel Combo will keep your catch coming! Made with the best materials, this fishing line is light weight and durable against all Mother Earth has to offer! You'll never know what you are going to reel it in with, but we've got a hunch that this satisfying combo won't let you down!
Fast Action / Medium Heavy Power
Telescopic Rod Kits for Adults
Easy to use for beginners
Full metal spool and special PA66 materials
Gear ration 5.2:1
Max drag 13lb
Suitable for saltwater, freshwater fish like catfish, salmon, bass etc
Best Salmon and Reel Combos Buyer's Guide 
Before you purchase a salmon fishing combo, it is vital to consider several factors such as:
How Are You Fishing? 
You can find salmon in different water bodies, including rivers, lakes, ponds, and seas. With that in mind, a perfect rod and reel combo for pond fishing may not be so perfect for sea fishing. Therefore, consider your fishing location and only purchase a combo that will do a fine job in the location. 
If you plan to fish in the open sea with your boat, you should purchase a combo that will withstand the saltwater. The rod and reel should be anti-corrosive. Furthermore, you need to ensure the gear can cast deep. 
Rod for Boat Fishing
Typically, a 7ft fishing rod will do a pretty good job when fishing from your boat. Ensure the rod is strong and flexible enough to deal with salmon. However, it should not be too heavy that it makes you feel too tired instead of enjoying fishing. Try to find a perfect balance between the weight and power of the rod. 
Reel for Boat Fishing 
Please keep in mind that salmons are heavy fish, so you will need a strong reel to handle them. A heavy reel is what you will most probably require when fishing for salmon. Don't consider purchasing an extra-heavy reel, though.

Rod for Shore Fishing
If you don't have a boat or don't want to use one, you can still get salmons from the shore. However, it is important to ensure you get a combo that ensures accurate casts, especially if your fishing location has weed. Also, it is crucial the rod cast over a long distance. Typically, you should consider purchasing an 8ft rod with a medium-heavy action.
Reel for Shore Fishing 
You can use either a  baitcaster or spinning reel. Typically, spinning reels are considered more beginner-friendly, but you can still find some beginner-friendly baitcasters. Kindly choose a reel that will not give you trouble while casting or retrieving.
Budget 
The next thing you need to keep in mind while purchasing a reel, rod combo is the amount of money you are willing to spend. The combos come at different prices, and you will always find a combo within your price range. Typically, the higher the price, the better the gear is likely to be. However, some rods and reels are overpriced and may not be worth the price.
Also Read : Best Budget Baitcasting Combo
Comfort 
You should always ensure that what you purchase is as comfortable as possible. For example, don't purchase a left-handed baitcasting combo, and you are right-handed. Test the gear and make sure they feel as comfortable as possible. If you are buying online, then be sure to read what other people say about its castability, smoothness, and comfort.
Durability 
Get recommendations from your fishing buddies about some of the durable rods they've been using. You can also get recommendations from trustworthy websites on the internet. When you have an idea of what you are purchasing, you will not get disappointed.
Warranty 
A warranty means you can return a product to the manufacturer if it develops a manufacturer's fault within the warranted period. Please note that warranties do not cover user breaks and other faults. 
Typically, the longer the warranty, the more trust the manufacturer has in its product. This means a combo with a 5-year warranty is likely to be more durable than one with a one-year warranty. Therefore, if you are torn between several salmon combos, choose the one with the longest warranty. 
Maintenance and Repair Costs 
Even the most durable rods and reels will need some repairs once in a while. This means it is crucial to consider the rod and reel have spare parts are readily available in your local fishing store. It is also important to ensure these spare parts come at friendly prices, not too expensive to make sense. I mean, there is no need to buy a combo whose spare parts cost is as high as buying a new reel or rod.
Skill Level 
It is worth noting that some salmon fishing combos are meant for experienced anglers, and buying such combos as a beginner can be frustrating. For that reason, always purchase gears that match your skill level. 
For example, if you are a beginner, you should purchase beginner-friendly gear. Typically, spinning combos are considered more beginner-friendly. If you are an experienced angler, you can use both baitcasting and spinning combos.  
Features of Rod and Reel Combos You Should Consider 
The features of the combo will help you differentiate the best from the average ones. There are various features you should look at in both, and here are the most important ones.
Weight 
You will be holding your rod most of the time while fishing, so it is vital to ensure it is not too heavy to make you feel too tired. The reel should not be too heavy either.  Some materials used to make these gears are strong yet lightweight. You should consider buying rods and reels made from such materials.
Number of Ball Bearings 
Typically, the number of ball bearings in a reel determines the smoothness of its casts and retrievals. Therefore, a fishing reel with more ball bearings is likely going to be smoother to use. However, the quality of these ball bearings also matter. Some reels with fewer high-quality ball bearings may have a better castability than ones with more bearings of low. 
Material 
There are various rod materials, but graphite and fiberglass are the most common. Sometimes, you can find a rod made of a blend of the two materials or a blend between one and other materials such as carbon. Typically, the material of a rod will determine its sensitivity, power, and durability.
That said, graphite is considered high-end and is often more expensive than fiberglass. It is lightweight, strong, sensitive, and classy. However, it may not be as good as fiberglass when fishing in challenging conditions such as rocky areas. 
Fiberglass, on the other hand, is strong, durable but slightly heavier and less sensitive. It also handles challenging conditions such as vegetative and rocky areas excellently. For that reason, a blend between the two gives you a perfectly balanced rod, balancing the weight, sensitivity, and durability of the rod. 
Rod Handle 
Typically, you will be holding the rod handle while fishing. For that reason, it is vital to ensure that it is as comfortable as possible. The rod should also provide a strong grip such that it can't slip while battling hard-fighting fish such as salmon.
There are various types of rod handles, but Cork and EVA foam handles are considered the best. EVA handles are the most comfortable, but their grip is not as good as Cork handles. Cork handles are also comfortable and long-lasting, but you should wear gloves while using them. Oils from your hand might make the cork handles wear down faster.
Rod Guides 
In most cases, rod guides are made of stainless steel. The material is durable and corrosion-resistant. In fact, stainless steel guides are always recommended. However, that's not the only thing you should consider when looking for the rod guides. 
Rod guides come with rings (inserts) where the fishing line passes through when casting. These rings play a huge role in ensuring you get a smooth cast. If the rings are rough, there will be friction, and the cast will not be smooth, plus they will wear down your fishing line. For that reason, always choose a fishing rod with smooth inserts such as titanium oxide, ceramic, or silicon carbide. 
Gear Ratio 
The gear ratio of a fishing reel is the number of times the spool will turn when you turn the handle once. That said, the higher the gear ratio, the higher the retrieval speed. Therefore, if you are fishing from the shore, it is crucial to have a reel with a higher gear ratio to ensure you get the fastest retrieval speeds, reducing the risk of losing a salmon. 
Other factors you should consider are:
The responsiveness of the rod
The sensitivity of the rod. However, since salmons are large fish, you will always notice when they take the bait even if the rod is not the most sensitive. 
The number of pieces. The number of pieces of a rod determines its Packability. A rod with several pieces means it can be broken down to those parts and packed in a bag while traveling.
If the reel comes with magnetic breaks and an anti-reverse switch, that's a plus.
Frequently Asked Questions About Salmon Fishing Combos 
Here are some of the frequent questions that come up when anglers are looking for the best rod and reel combos for salmon fishing. 
What is the Best Rod Size for King Salmon?
Within the salmon species, king salmon rules in terms of size and strength. That means you need to use the strongest rod for the king. Generally, an 8ft to 10ft with 11wt will land a king salmon hassle-free. 
Can I Use Any Rod for Salmon Fishing?
You can practically use most rods for salmon fishing, but some are better than others. For the best results, use dedicated salmon rods. 
Should I Use a Spinning Reel or Baitcaster to Catch Salmons?
Typically, any fishing technique will catch a salmon. Just choose a technique that you are comfortable using. 
Wrapping Up 
When it comes to choosing the best salmon rod and reel combos, quality is the key. Choose a combo that will handle all types of salmons, including king salmon, and one that you will feel comfortable using.
There are many factors you should consider before settling on one. They include Packability, budget, rod action, the number of ball bearings, rod handles, material, and more. If you don't know which one to purchase, I recommend going for the KastKing Centron Combo. This combo has everything to make your salmon fishing easier and more fun.