When setting out fishing, one of the essential equipment you bring on board is a rod. You don't just walk to the store and pick a fishing rod. Before choosing a rod, you need to understand what and where you are fishing. If you are a beginner, you need to understand the different types of rods, their size and lengths. Picking the right fishing rod will improve your skills as an angler and help you build up the confidence you need to explore different waters. This article will help you choose a perfect rod.
What is a Fishing Rod?
A fishing rod is a stick or pole used by anglers and fishers to catch fish. A fishing rod is usually long and flexible. It is attached to a line ending in a hook where you can place your lures. The length of a fishing rod varies between 2 and 50 feet. The design and quality vary depending on the manufacturer and make. Most rods are made from graphite, fibreglass, and some traditional rods are made from wood.
How does a Fishing Rod Work?
A fishing rod functionality is dependent on the energy transfer through the rod. To successfully retrieve your fish, the energy stored in the rod is transferred to the end of the line. This is done by casting a smooth stroke and building in acceleration so that the rod returns to a straight position while its energy is transferred to the line, so the line launches towards the target.
Parts of a Fishing Rod
A fishing rod is divided into two parts, the top and bottom. The top consists of the tiptop, windings, guides, eyes, ferrules, hook-keeper, and blank. The bottom part of a rod consists of the butt, butt-cap, handle and reel-seat. All these parts work together to ensure the comfort, high performance and durability of a fishing rod.
Types of a Fishing Rod?         
Anglers have different preferences in their choice of fishing rods. So, manufacturers have come up with different rods to fit every angler preference and different fishing techniques. The different types of fishing rods include,
Spinning rod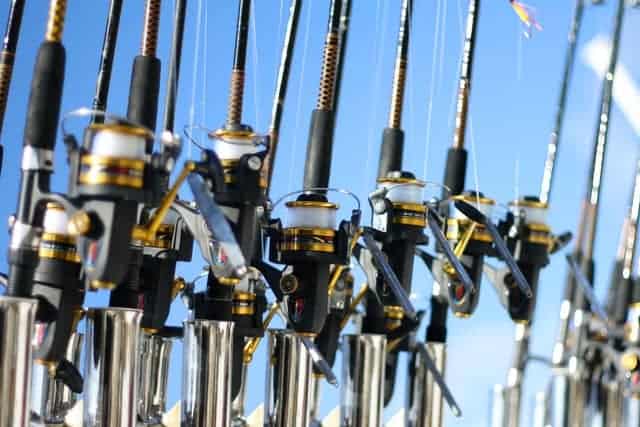 This is the most common fishing rod. This rod lets the users hold it with the dominant hand enhancing stability and more power.
Casting Rod-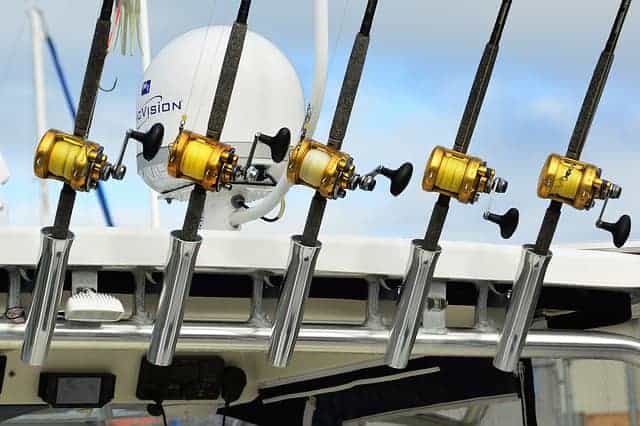 Casting rods are usually preferred by pro or expert anglers.
Telescoping Fishing rods-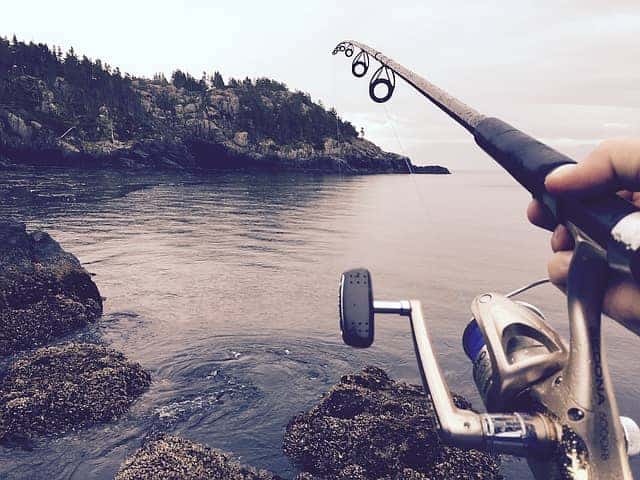 These rods stand out due to their compact design. The compact design of these rods makes them travel friendly. These rods are also very light, enhancing the anglers comfort.
Fly fishing rods-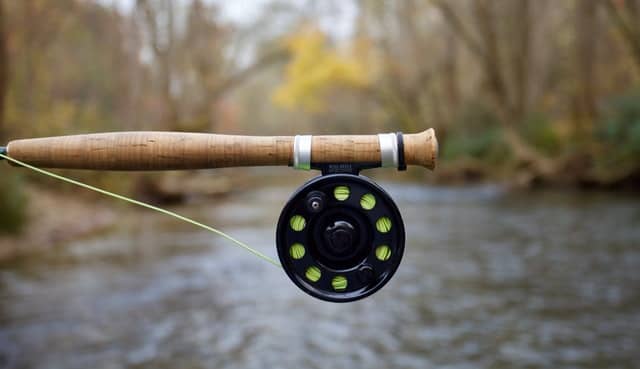 These rods are used for fly fishing. They come in different sizes and lengths, making them perfect for different fish species.
Ultralight Fishing Rod-
This rod is made for light presentations and small fish species.
Surf Fishing Rods-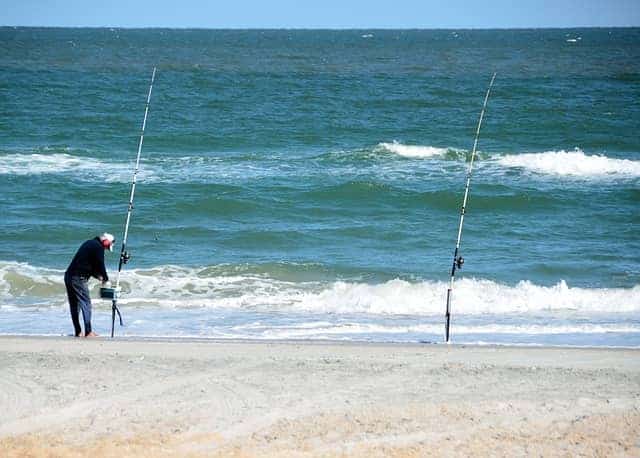 These rods work perfectly in sea fishing, and they come with a durable butt.
Trolling Rods-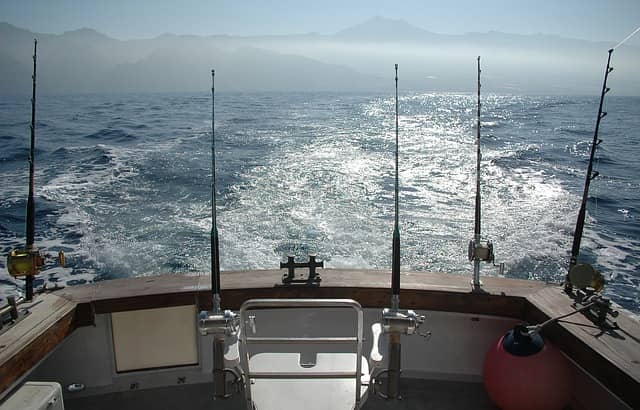 Trolling rods are used for moving boats. The lure moves through the water as your boat moves.
Ice Fishing Rods-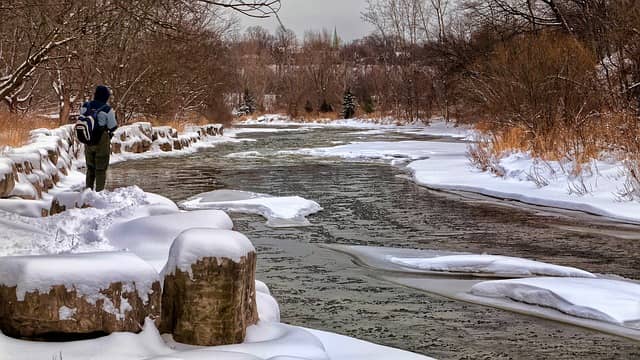 These rods are usually short, making it possible for anglers to reel above the ice fishing hole.
Power and Action of Fishing Rods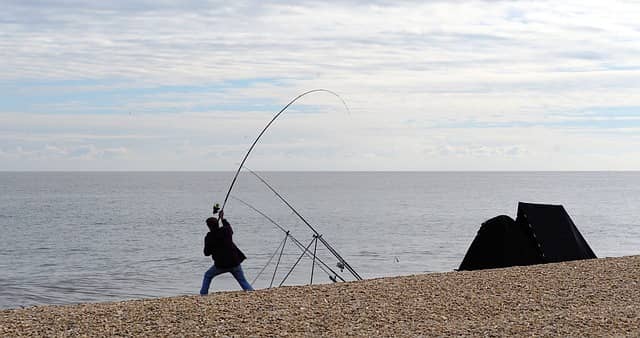 Different fish species require different power and action rods. Power is the rod's resistance to bending while under pressure, and action is how the rod bends or behaves when pressure and weight are applied.
A fast action rod bends in the top third part of the rod, a medium action rod bends in the top half position, and a slow action rod turns in the lower third part of the rod and into the handle.
The rod's power can be described as ultra-light, light, medium and heavy.
Ultra-light power rods are used with light lures and are suitable for most presentations.
Light power
Light rods vary slightly from ultra-light rods. They slightly bump in power and are perfect for lures ranging in 1/16 ounce.
Medium Light power rods
are ideal for lures between 1/8  to ½ ounce range. This rod stiffens quickly and allows for quick hook sets.
Medium power rods-
The medium power rod works fantastically with ¼ to ¾ oz lures and sustains medium stiffness aiding in proper hook-sets.
Medium Heavy
The medium-heavy rods are very common in most bass boats. This rod maintains the stiffness required to fish a jig, and it comes with wide gap hooks.
Heavy power rods
This rod is stiff and handles lures ranging between 3/8 to 1 ounce. They are used for heavier football jigs and deep structure fishing.
Extra Heavy Power rods.
These rods are perfect for loading quick hook sets. They match lures ranging between ½ to 2 ounces.
Fishing Rods Material
Fishing rods are made of different materials. The different materials determine the rods quality, weight and durability. These materials include:
Fibre Glass
The fibreglass rods are slow to medium action. These rods are affordable and heavy.
They are therefore ideal for larger fish. The downside of these rods is that they can cause the fish to break off due to their weight.
Graphite
Graphite is probably the most common material in rods. Anglers prefer these rods since they are lightweight and hence very comfortable. They are primarily fast action, and they usually bend at the top end part.
Composite Rods
Composite rods are a mix of fibreglass and graphite. These rods bring out the best of both materials.
 These rods maintain the lightweight of graphite and the quality of fibreglass.
Bamboo
Bamboo is common among traditional rods and is ideal for smooth casting and fighting fish.
Understanding Length of a Fishing Rod
The length of a rod ensures your success while fishing. Rods range from 2 feet to 14 feet. Different fishing applications and techniques require different rod's measurements. The most common rods are the 6,7, and 8 feet rods. Below are the length disparities of the different types of rods.
Spinning Rods Length

These rods come in varying lengths due to their different applications. Short spinning rods are approximately 4.5" while long spinning rods are 9.5".
The 4'5″ to 6′ spinning rods are short spinning rods used for kayak fishing or fishing in small creeks with shrubs and vegetation. These rods help you cast underneath the vegetation.
6′ to 7'5″ spinning rods are medium length rods. They are the most common rods among anglers. This is because they can be used for different fishing techniques. The medium-length rods are ideal for beginners and hobbyists.
7'6″ TO 9'5″ rods are Long spinning rods. These rods are ideal for long-lasting. These rods are mainly used for surf fishing or open water lure casting.
Baitcasting Rod length

These rods are also trendy, although they are not as popular as spinning rods. They are a little longer than the spinning rods. These different baitcasting lengths are:
1. Short baitcasting rods range from 5'5″ to 6'4″, and they are ideal for a distance of 30 feet or less, giving them excellent casting accuracy.
2. Medium baitcasting rods range between 6'5″ to 8′ and are ideal for bass fishing and other scenarios like bank fishing and kayak fishing.
3. Long baitcasting rods are 8′ to 9′ long, and they are mainly used for power bass fishing. These rods allow you to cast large lures.
Fishing Rods Accessories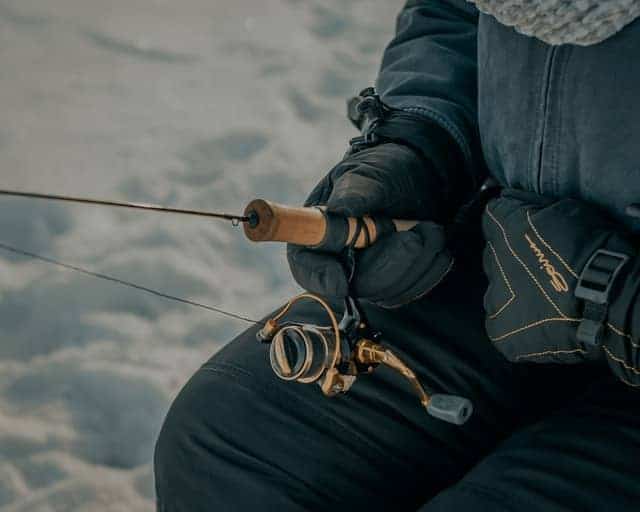 Fishing rod accessories ensure your comfort and ease of use. Manufacturers pair their rods with different accessories that enhance their longevity, performance and ease of use. These accessories can be purchased separately or along with your rod. Sometimes they come along as discounts after buying the rod.  Anglers looking to improve their fishing skills and enhance their fishing success should use different fishing accessories. These rod accessories include :
Rod holder
A rod holder is meant to improve your comfort and maintain a firm grip while fishing.
Rod case is a perfect storage place, so you can be assured that your rod is safe at all times.
Travel rod case
A travel rod case lets you travel with the rod comfortably.
Rod glove
A rod glove helps maintain a firm grip even when the rod gets wet.
Rod floaters
These accessories make sure that your road stays afloat in water.
Rod and reel cleaners
These accessories help maintain the cleanliness of a rod and reel at all times.
Fishing Rods Brands
People are engaging more and more in fishing activities. Therefore the demand for the fishing gear is on the rise. This high demand has resulted in a large number of manufacturers in the market. There are different manufacturers of fishing rods; therefore, to avoid getting a substandard rod, you need to identify the best brands that offer quality and work towards customer satisfaction. The most popular fishing rod brands are:
Shimano
 Daiwa
 Penn
 Okuma
Ugly Stik        
Fenwick
St.Croix
Abu Garcia
Kastking
Piscifun
Fishing rod vs pole
Fishing poles and fishing rods look similar, but they are different. Here are some of the differences that distinguish the two.
Fishing poles are made from natural materials like wood, cane, reed and bamboo. In contrast, Fishing rods are made of graphite, fibreglass and composite materials.
Fishing poles do not have eyes, guides, bells or whistles, while Fishing rods have the eye, guides and whistles that help improve their function.
Fishing rods have a line and reel that are used to play fish. On the other hand, a pole has a fixed system, and its line is attached to the interior of the pole.
Fishing poles are very unpopular and are available. Finding a fishing pole is very hard. In contrast, fishing rods are readily available, and you can easily purchase them from online stores or any store selling fishing gear.
What to Look for in a Fishing Rod
1. Length-
Length is an essential aspect in ensuring the success of your fishing. Various techniques require different rod lengths. For instance, you only need a 2 feet long rod; while surf fishing, you need a 14 feet rod.
2.Power and action-
Power and action determine how the rod behaves under pressure. The power and action of the rod are greatly dependent on the fishing technique, size of the fish and fishing area.
3.Type of rod-
There are different types of rods that perform differently. The kind of rod you pick will be determined by the fish you intend to catch and the type of water you are exploring.
4. Weight-
When going for a fishing rod, you need to choose a comfortable rod. The weight determines how comfortable you are while fishing. Lightweight rods are comfortable and cast better. However, despite selecting a light rod, ensure they have the strength to handle your fish.
5. Material-
The material of your rod determines its durability and performance. When choosing a rod material, ensure the material is quality, durable and has the strength to handle a variety of fish species.
Final Verdict
Fishing is a technique that has been there for ages. Every angler knows that the backbone of any fishing experience is a good fishing rod. That is why you will find anglers investing so much money in rods. Therefore, you need to be extra careful when picking a fishing rod. A good fishing rod will help you become a pro angler in no time. You don't have to be experienced to be able to choose a quality rod. This article will help you select a good rod, even as a beginner.