I look forward to fishing every time I get the chance. Whether it's on a boat, by the pier, or in my lake-side backyard, there is nothing more relaxing than sitting outside and casting your line into the water for hours on end.
However, finding quality fishing gear can be difficult at times. That being said, Daiwa has made high-quality baitcasting reels available for all of us who need to reel in our next catch!
The Daiwa Lexa 400 HD Baitcasting Reel is a favorite among fishermen because of its durability and versatility. It can handle pressure with ease so that you don't miss out on any big catches!  The bearings are also designed for longevity and are completely waterproof.
The Design
 The construction of this baitcasting reel is also worth noting. Daiwa has made the Lexa 400 HD easy to use and comfortable for your hands, but it's not a beauty contest-this fishing gear will stay by your side while you're out on these waters and won't let you down!
More about the Models
The Daiwa Lexa 400 HD Baitcasting Reel comes in five different models. These are:
LX-HD400H-P
LX-HD400HS-P
LX-HD400XS-P
LX-HD400HSL-P
LX-HD400PWR-P
What makes these models different from each other is the gear ratio, weight, and line per crank. There isn't much to note on performance as all of them are setting the pace for their competitors.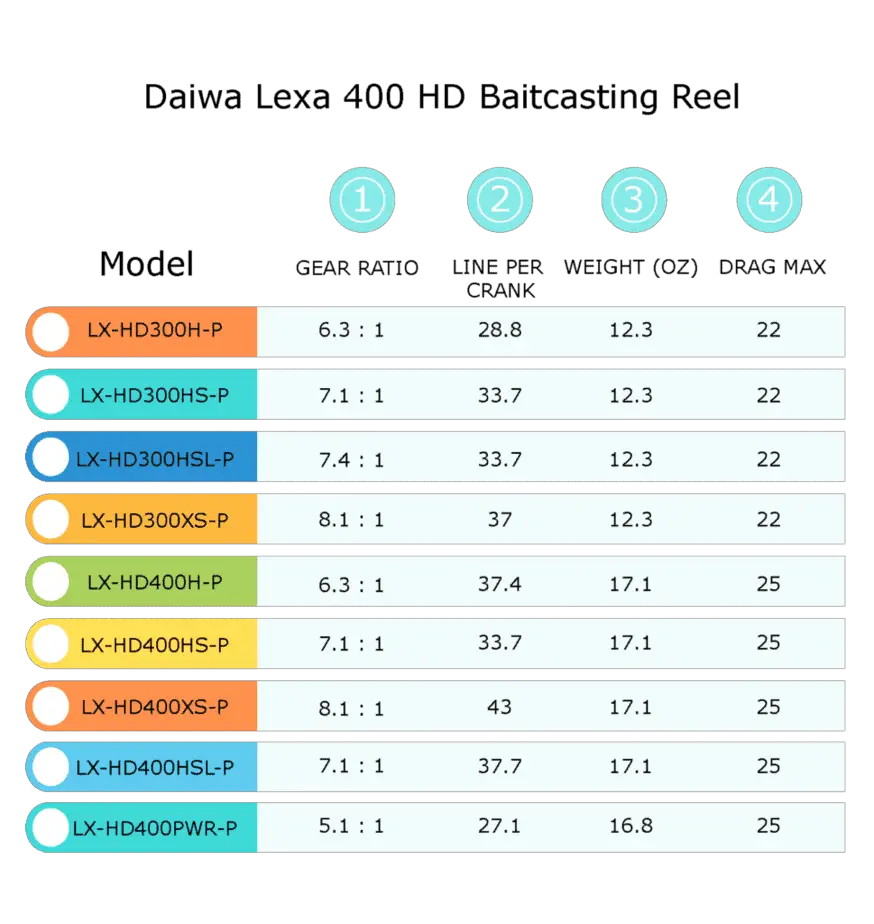 Key Features 
Aluminum Body
Daiwa Lexa 400 HD's body is made from aluminum to ensure that this reel lasts a lifetime. The entire reel has been sealed and treated with corrosion-resistant anodizing, so you can be sure that your investment will last for years!
Rounded Eva Ball Knob 
The Lexa 400 HD is equipped with a round EVA ball knob that will be comfortable to use all day. Keeping your hands free and less tired from the pressure of reeling in these fish can make the difference between landing them or not!
120mm Handle
The 120mm handle is a great length for both casting and trolling. You can cast your lure or bait into the water with ease, while also being able to keep control of the reel when you're fishing on calmer waters.
Clutch System 
The Daiwa Lexa 400 HD is equipped with a clutch system that will give you the power to control your baitcasting reel more than any other reel. This means better hooksets, fewer line twists, and hassle-free fishing trips! The torque lever lets you adjust everything from how tight or loose you want your drag settings to be all the way. 
Bearings 
It has a light, yet powerful, gear ratio system with corrosion-resistant stainless steel bearings. As a seven-bearing system, they are lubricated enough to make sure that the reel is always spinning smoothly and without any interruption.
Weight
The reel weighs in at just 17.1 oz. This is a reasonable reel that won't weigh you down as you cast all day long and fight the fish for hours on end! However, there is a slightly lighter model that weighs about 16.8 oz. This is the PWR-P.
Stainless Steel Gear 
It has stainless steel gear for maximum corrosion resistance and durability. You will love its performance even in saline areas.
Gear Ratios
The Daiwa Lexa 400 HD Baitcasting Reel comes in four different ratios, with the PWR-P model coming as a five-speed ratio reel. The lower numbers on these reels mean that you have more gear to use for long casts, and the higher number means that this reel will help you make short accurate casts.
Magforce Cast Control System
The Reel has the patented "Magforce Cast Control" system. This revolutionary magnetic braking system offers maximum casting distance while also allowing you to control your casts and prevents backlash for perfect bait deployments.
Ultimate Tournament Drag System 
This reel has a Tournament Drag System that is designed for the heaviest of fish. This drag system features an oil-cooled aluminum spool and carbon fiber handle with a titanium frame, making it one of the most durable reels on the market today.  
The Specifications 
25 pounds max drag capacity
4+2CRBB+1 bearing system
Retrieves on either side
16p8-17.1 oz.
Line Capacity 17/245 
27.1-43''/ turn recovery
Braid capacity 40/300 
Feel and Ease 
The Daiwa Lexa 400 HD Baitcasting Reel has a very smooth casting feel thanks to the Magforce Cast Control System, which is designed for maximum distance and control. The reel also features an ergonomic handle that's easy to grip because of its oversized knob design and non-slip material.
Pros – The Good 
The reel has an aluminum frame and spool that is oil-cooled, making it strong enough to cast heavy fish 
The Magforce Cast Control System provides a smooth casting feel with increased distance control 
The Daiwa Lexa 400 HD Baitcasting Reel's handle is round for easy grip 
Has more line capacity
A versatile reel 
Cons – Concerns
The reel is slightly on the higher price. But, since its boasts premium features, it deserves it. 
Here is my Experience 
The Daiwa Lexa 400 HD Baitcasting Reel is probably one of the best baitcasters I have ever used.  
The reel's Magforce Cast Control System provides a smooth casting feel with increased distance control, which makes it perfect for heavy fish. 
However, this system means that you must exert some more effort when retrieving the line, which some people may not like. 
The Daiwa Lexa 400 HD Baitcasting Reel's handle is round for easy grip and has more line capacity than the average baitcaster; this makes it perfect for any type of fishing experience.
Tips for Using the Reel 
You can add more line to the reel if the situation allows for it. 
The reel is so easy to work on and it has enough power for everything I use it for from bluegill fishing, bass fishing, or saltwater rods. So, maximize on this if you are out for big bait fishing. 
It's reliable when you are fighting the big ones! The bail snaps open at just about any speed.
Care and Maintenance 
Use a light coating of reel oil on the gears and bearings when needed. Avoid lubricating on the first session as Daiwa generously does it for you. 
Wipe your reels down with rubbing alcohol after each use to remove any salt, dirt or, other contaminants that may have gotten stuck in tight spaces. If in a rush, a quick rinse under tap water will do. 
FAQ's- Questions about the Daiwa Lexa 400 HD Baitcasting Reel
Q: Is the Daiwa Lexa 400 HD Baitcasting Reel durable?
A: Yes, it has been made to withstand fishing in saltwater and freshwater. It also resists corrosion from these environments
Q: What type of bearings does this reel have? 
A: It has a ball bearing system that ensures longevity and smooth fishing
Last Few Words
There is a lot of choice in the market for baitcasting reels but there are few that can match the Daiwa Lexa 400 HD Baitcasting Reel. This reel has a 7 ball bearing system and an advanced anti-reverse clutch, which means you'll be able to cast further with less effort than ever before. 
Not only does it have enough power to land those big fish, but this reel also provides great gear durability because of its Magforce Z magnetic brake system, so your gears will last longer with little maintenance on your part! If you're looking for a high-quality product then look no further as we've found just what you need.