The Daiwa Tatula 150 Baitcasting Reels is a new reel released by the famous Daiwa company. This product has been getting rave reviews for its high quality and innovative features. It is one of the best-selling reels, and it deserves all the attention that it's getting!
This article will go through some of the pros and cons to this reel so you can decide if it is right for you or not.
You may also Like : What are the strongest baitcasting reels on the market? 
Specs:
Max Drag: 13.2
Weight: 7.9 (OZ)
Gear Ratio Options : 3
Color: Matte Black
Hand Orientation: Right Hand
BB RB BRGS: 7BB+1
Mono Line Capacity: 14/150, 16/120
J Braid Capacity: 14/150, 16/120
Models Offered:
Daiwa Titula 150 baitcasting reels come in four models: TAT150P, TAT150H, 
TAT150HS and the newest model is called the tat1500hs. The only differences among these are that some have a heavier gear ratio for more power while others can handle lighter lines better with their high-speed gearing system.
TAT150P
TAT150H
TAT150HS
TAT150HSL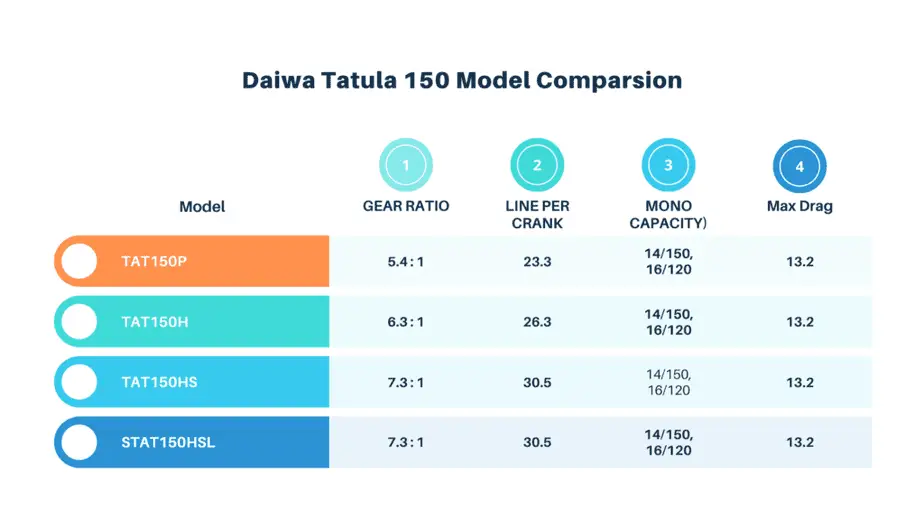 Features : 
The Daiwa 150 comes with an aluminum frame and side plate, which is a feature found in Daiwa's more expensive models. The drag system on the Daiwa 150 reel has also been improved from previous versions of this baitcasting reel.
Aluminum frame/side plate
Magforce Z Cast Control
TWS T-Wing System
100mm Swept handle
Perfect Choice for Bass Anglers:
The Daiwa Tatula 150 reel is an excellent choice for bass anglers because it offers the power and precision they need while still being sensitive enough to detect even the lightest bites of a finicky fish like a largemouth or smallmouth bass, not to mention all other types of freshwater gamefish such as crappie and catfish.
Geater  Line Capacity :
You'll never have to worry about running out of line when you're using the Daiwa Tatula 150. This reel features an oversized spool, so it can hold all kinds of different types and lengths with easement
Ease in Long Distance:
The Tatula 150 is the perfect reel for those who are looking to make their fishing more relaxing. With its T-Wing system, you can release your line with a flick of your wrist and not have to worry about tangles!
The larger spool on this model means that it's great for longer expeditions or when working in different climates because there will always be plenty of space available; just keep an eye out so as not to get tangled up if pulling off any lines too quickly.
Compatible with Larger Reels:
Daiwa Tatula 150 casting reel is compatible with larger reels. It will be able to hold larger reels with ease, even in tough situations like the cold winter months. This model is also compatible with any reel size from 0-150m so it won't matter what your needs are!
Fearless Casting :
The Tatula 150 is a phenomenal reel that will allow you to cast with ease and control, despite your level of expertise. It'll allow you to cast with confidence without fear of backlash or tangling.
Cons – Points of Improvement: 
Daiwa Tatula 150 is a great reel. However,  it is not completely perfect. There are a few points of improvement that Daiwa could have made to make this reel even better but overall, it's an excellent product!
This reel has some weight to it, which can make casting challenging for someone with a weak arm or wrist.
The braking & spool tension needed a little tweaking
Frequent Asked Questions:
(a) Is it magnetic brakes
Yes, The reel has magnatic brakes
(b) Is this left Handed Reel ?
The reel is for a right-handed person. Daiwa uses "HL" and "HSL'" acronyms for their left-handed models.
(c) Is this reel saltwater approved
No, however you may use it in saltwater too with proper care and maintenance.
(d) What is the best alternative of Tatula 150
The Daiwa Tatula 150 is a great reel for any type of fisherman. It has been constructed to perfection and can be used on all types of fishing expeditions, whether the target fish come in large or small packages!
The best alternative from the series that I use everyday would have to be the Daiwa Tatula 100 baitcast reel. If you want to know more about these two models then check out our article on What is Difference Between Daiwa Tatula 100 vs 150 Reel
Final Verdict :
The Daiwa Tatula 150 is a baitcasting reel that's great for beginners and experts alike. It has the features you expect in a quality fishing reel, such as high-quality aluminum construction and reliable, smooth drag system. This means it'll last through years of use with little to no maintenance required! If you want an affordable but dependable reel at your next fishing trip, give this one a try.