The Shimano Curado DC Baitcasting Reel is one of finest reels in Shimano's lineup. The Curado has a new design, which includes an all-new braking system and a new line capacity. 
These features make it one of Shimano's most impressive baitcasters yet! It also comes with Shimano's proprietary drag system and S3D – Shimano Spool. Its innovative brake allows anglers to adjust their settings on the fly without having to remove the reel from the rod or disrupt fishing lines. We will take you through this great reel's features below!
Specifications
Models
There are six models of the Curado DC Baitcasting Reel. They differ in weight, gear ratio, and retrieve rate. Otherwise, all the other aspects are similar across all the models. 
Having several models allows an angler to choose one that is perfect for their needs. If weight, retrieve, rate, and gear ratio are your determining aspects, this has a variety to choose from. 
This reel is perfect for beginners to expert anglers because it has a variety of models that appeal to all skill levels. 
Striking Design
The Curado DC Baitcasting reel has a sleek and striking design when you closely look at it. It is a Shimano reel, so you can trust it to be great
This Shimano baitcasting reel is designed with the traditional Shimano quality and durability in mind. It's the last fishing tool you'll want to lose. Maybe replace and advance to another greater model. 
But it is among the line of reels designed for the angler to cast long distances. The model has been around for many years and has been perfected with every new generation introduced by Shimano. 
Powerful Cross Carbon Drag System
Shimano builds this reel with a powerful drag system, which does take a bit of effort to get used to. Shimano puts this in place because they want the reel to be able to handle all types of fishing situations, from small freshwater streams and rivers, coastal waters, or even heavy saltwater fish. 
The Shimano Curado DC is designed as both an inshore and offshore baitcasting reel. But there is a lower limit on the maximum drag. This can take only up to 11 lbs.
This reel is not designed for the angler who needs a lot of drag power. Shimano has its line of reels, which can handle higher levels of stress and heavier fish than the Shimano Curado DC Baitcasting Reel.
Tough CI4+ Construction
This is the latest technology compared to the previous CI4 used in other older Shimano Reels. The technology is used to reduce its weight and increase its sturdiness.
It can take as much abuse as possible when it is used in heavy saltwater fishing. The Shimano Curado DC Baitcasting Reel has a good reputation for durability, but the price point may not be right for some anglers who are only looking to do inshore fishing because of their budget constraints.
Powerful HAGANE Body
This is proprietary of Shimano and makes the reel stronger than most competitors. This is an example of Shimano's commitment to quality and best materials in their products that would have a higher retail value but are still affordable for most fishermen.
Intelligent Digital Control Braking System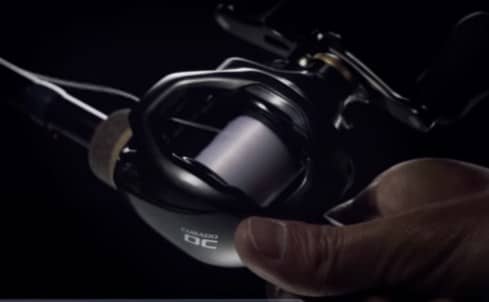 The reel has a digital control brake mechanism to give perfect brake control and to make sure that the angler can precisely adjust for any situation. Shimano has a reputation for building their products with great precision, which is why they are one of the most popular brands in baitcasting reels.
This system allows you to use any type of lures to help you catch more fish. You will need to make minimal adjustments to the braking system and it also reduces wear on the reel. 
Shimano's brake is designed to reduce any unnecessary slack that could cause a ball bearing to go into a bind, which in turn will stop your line from coming off of the spool.
Micro Module Gear
Built with the micro module gear system, Shimano Curado DC Baitcasting Reels can provide a smooth and powerful retrieve. Shimano's micro module gears use advanced technology that provides more power for your fish.
This system also reduces the excess friction that always occurs when casting, reeling, or retrieving with other Baitcast reels on the market today. 
Together with the X-Ship technology, it ensures proper gear alignment. This allows you to fish with lighter lures with ease and cast for distance. You can agree that Shimano did a great job on its latest reels. 
S3D Spool
The S3D spool is a great addition to the reel. It reduces any vibration and ensures the spool is steady throughout.  This allows for smooth casts and retrieves.
S A-RB Bearing System
Nothing beats how well the bearing system functions in this reel. They're Shimano's S-A-RB bearings that deliver smoothness and power. If you are worried about salt and other particles affecting its performance, Shimano has you covered with their super shielded system.
Super-Free Spool
Thanks to the super-free spool, there is reduced friction to ensure that your line can cast farther for distance. Shimano really paid attention to detail when designing this reel.
But don't just take my word for it. Shimano is a well-known name in the fishing industry, so you know they are committed and dedicated to manufacturing quality products that stand up against their competitors.
Awesome Line Capacity
The reel has a line capacity of 10/120, 12/110, 14/90 for monofilament lines. This means that Shimano has you covered for whatever fishing adventure awaits. Its capacity for braided lines is 20/150, 30/135, 40/105 across all models.
Lightweight Design
This Shimano reel is lightweight at only 7.8-7.9 oz., which means you will have a much easier time reeling in fish or manning your position during casting with less weight to carry around. 
Application
Both novices and pro fishermen will find Shimano's Curado DC baitcasting reel to be a reliable and sturdy weapon in the battle of catching fish. The various models available allow you to customize Shimano's Curado DC baitcasting reel to any lifestyle and will provide years of faithful service.
It has proven to work well for both heavier and light lures.  Shimano's Curado DC baitcasting reel is also used by Shimano for a variety of tournaments, so you know it can withstand the pressure. It will last forever with proper maintenance and care.
You can use it for both fresh and saltwater fishing. Shimano's Curado DC baitcasting reel is not too heavy, so it will be easier to carry around when you are out on the boat or if you decide to fish from shore. 
Price
This reel isn't cheap. You will spend a couple of hundred dollars for one Shimano Curado DC baitcasting reel. Shimano's Curado DC is worth the money if you are looking for a quality product that will last forever with proper care and maintenance.
Its features are also advanced and you get what you pay for. 
Best Rods for Shimano Curado DC Baitcasting Reel
Tatula 7′ M/MH AGS rod
GLoomis E6X 6-6 M/H Fast
Shimano Curado Casting Rod
Dobyns Fury 7′ Medium-heavy Rod
Best Lines for Shimano Curado DC Baitcasting Reel
15 lb. mono Berkley Big Game
Best Lures/Baits for Shimano Curado DC Baitcasting Reel
Spinnerbaits
Buzz bait
Surface lures
Pros
Consistent performance
Compact and lightweight
Various models to choose from
A tournament reel
More advanced features
Easy to use
Improved drag system
Smooth operations
Cons
The price point can be higher for fishermen shopping on a budget
There is a slight backlash
Frequently Asked Questions 
Q: Is it difficult to set the Shimano Curado DC Baitcasting Reel up? 
A: The Shimano Curado DC is simple to set up and use. You can also easily change out the drag settings though minimally because it has an advanced system.
Q: Is this a saltwater reel?
A: Shimano Curado DC Baitcasting Reel is a freshwater reel. But can be used in saltwater areas. However, you need to oil the reel clean it often to maintain its status. 
Q: Can the Shimano Curado DC reel be used to catch Bass?
A: Yes, this will work for bass, zander, and perch because it perfectly throws small lures. 
Q: What are some of the best alternatives to the Shimano Curado DC Baitcasting Reel
A: If you are looking for other baitcasting reels, the 
Lew's Hyper Mag SLP
Shimano Chronarch MGL
Abu Garcia Revo SX
Final Verdict: Is the Shimano Curado DC Baitcasting Reel Worth It?
Shimano's Curado DC baitcasting reel is a great example of how innovative engineering and cutting-edge technology can lead to the creation of high-quality gear that has an unbeatable value proposition. The level of performance, durability, and reliability you'll find in this product will put it at the top of your list when looking for new reels. 
The Shimano Curado DC Baitcasting Reel is without a doubt one of the best reels for any fisherman. 
It's easy to set up and use, has minimal backlash, smooth operation that can be adjusted easily because it has an advanced system, and comes with a Shimano quality assurance warranty. 
It also features some advanced technological advances like DC gear control which makes casting easier while reducing line twists. Are there any other innovations or technologies that have caught your eye? Try it out and share your experience with us!