If you are looking for a baitcasting reel that is comfortable, lightweight and has all of the features that you need to catch more fish, then Lews BB1 Pro baitcasting reel should be your first choice. This article will discuss some of the best characteristics of this reel as well as some tips on how to use it properly.
This article will introduce Lews BB1 Pro baitcasting reels and talk about their pros and cons in order to help readers determine whether or not they would make a great addition for their fishing gear.
You may also like : Best Lews Baitcasting Reels
More About Lews BB1 Pro Speed Spool :
Specs : 
Material : Synthetic 
Maximum Drag (lbs)  : 20
Weight (O.z) : 6.5 
Reel Bearing : 9+1 
Size Options : 4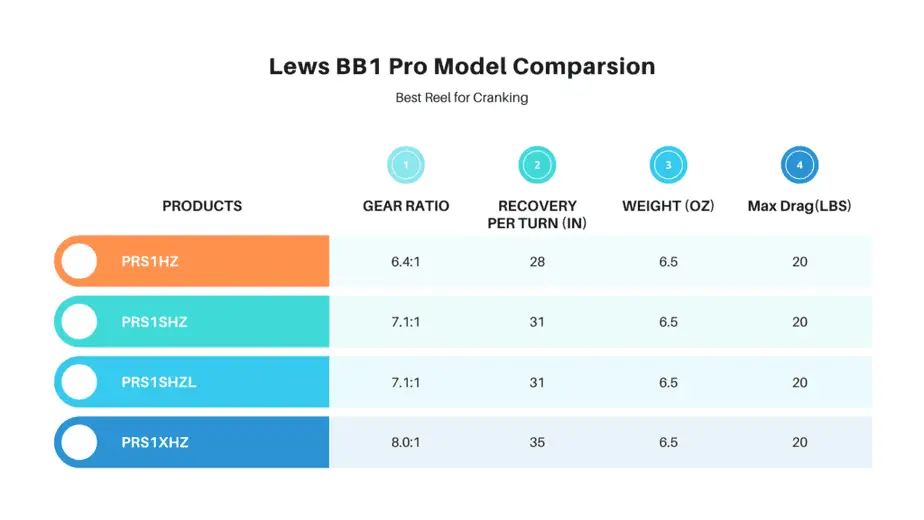 Features and Benefits : 
Lew's BB1 Pro Baitcasting Reel is a 6-pin baitcasting reel that features an adjustable centrifugal brake. This model has Zero Reverse for when the line gets tangled, and comes with Speed Gears and Speed Dial to help you find the right setting for your fishing needs.
The Lew's BB1 Pro Baitcasting Reel has a lightweight graphite frame, aluminum handle, and side plate with a stainless steel main gear. The sealed carbon drag system works well in both fresh and saltwater. It also features a large arbor design.
At a glance lews BB1 Pro has :
Carbon Fiber Drag System 
New QuietCast braking system (Externally adjustable) 
large capacity 35mm spool
Premium 10-bearing system
4 Size options
Lews BB1 Pro Features and Uses ( Video)
LightWeight and powerful : 
Lews BB1 Pro reel is light, powerful, and fast. This baitcast model has a strong composite frame made of graphite with an aluminum handle and side plate. The large arbor design allows for quick line retrieval after each cast while the speed gears allow you to reel in faster than ever before
Speed Gears and Dial for finding the right fishing setting.
Lightweight graphite frame with aluminum handle and side plate made of stainless steel main gear that is sealed to work well in both fresh or saltwater. Large ar
The Braking System of Lews BB1 Pro : 6-PIN QUIETCAST ACB –
The 6-pin QuietCast Anti-Conversion Brake (ACB) System is a patented technology that prevents backlash and ensures smooth, consistent retrieves for the Lews BB1 Pro fishing reel. This braking system will be perfect for those looking to fish in rough water without worrying about their line being pulled back too far during a cast or retrieval.
ZERO REVERSE and Anti Reverse :
Zero Reverse is a simple but effective innovation that eliminates backplay in the handle when the reel is not under load. This allows for quicker line pickup and smoother operation.
 ANTI REVERSE :
Anti Reverse uses a clutch mechanism to prevent the spool from turning backwards during casting and retrieving. It's designed to keep your lure on track without fail.
SPEED GEARS AND DIAL :
The Lew's Tournament MP Speed Dial allows you to quickly select the perfect gear ratio for any situation, while our patented Speed Gears enable you to fine tune your retrieve speed with precision.
Models : 
The BB1 Pro Speed Spool is one of the strongest models. It's useful in a variety of fishing environments including shallow water, rocky shorelines, and even saltwater fishing. The BB1 comes with 4 modes to fit your needs for any given fishing situation. 
Pros :

 
The 10 bearing system guarantees high-speed performance and long service life
Zero Reverse® one-way clutch bearing prevents spinning backwards which provides increased casting distance
One-piece aluminum frame with graphite sideplates for reduced weight and improved stability
Carbon fiber drag system ensures your reel will last longer than other reels 
Hard anodized aluminum alloy Speed Gears® reduce wear on the gear teeth providing increased durability
Aluminum handle and side plate made of stainless steel main gear, sealed to work well in both fresh or saltwater. 
Cons : 
What People Ask about Lews BB1 Pro
Can I Use Lews BB1 Pro in Saltwater?
You can use Lew's BB1 Pro in saltwater, but you need to rinse it off and oil the moving parts regularly.
What is the best alternative of Lews bb1 Pro
The best alternative of Lews bb1 Pro is BB1 Speed Spool. In spite of having a lot of similarities, BB1 and BB1 pro has some differences. You may take the differences into consideration while choosing the right reel for you!
Additionally, there are some other reels you may take into consideration. They are Lews Tournament Pro, Daiwa Tatula, Shimano Curado and the famed Lew's Super Duty that will make fishing an easier task for those who want to get their hands wet in this sport!
Conclusion  : 
 The Lews BB1 Pro Baitcasting Reel is a lightweight, easy to use, and maintain reel with an externally adjustable braking system that provides smooth casting performance. It also has the ability to keep your bait on the water longer for more bites! If you are looking for a new fishing reel or just want something different than what you've been using before then this may be just what you need. The drag system on this baitcaster also ensures that your fish doesn't get away once they're hooked onto the line. If you want to catch more fish in less time, then Lews BB1 pro can be your perfect arsenal.
Related Resources :