There are many different types of fishing reels on the market today, and every fisherman has their preference. Some like spinning reels because they are inexpensive and easy to use, while others prefer baitcasters because they make it easier for them to cast a wider range of lures.
Lews Mach 2 is one type of baitcaster that has been gaining popularity in recent years due to its high-quality construction and ease-of-use features. Read our Lews Mach 2 review below so you can see if this reel is worth your money!
Also Read : Top Ten Baitcasting Reels for the money  
The Specs :
Material: Blend
Color : Black/Green
Gear Ratio: 7.5.1
Reel bearing : 9+1
Maximum Drag (lbs) : 15
Item Weight : 0.62 Pound
Bearing Material : Stainless Steel
MONO LINE CAPACITY (YARDS/LBS) : 110/12
BRAID LINE CAPACITY (YARDS/LBS) : 110/50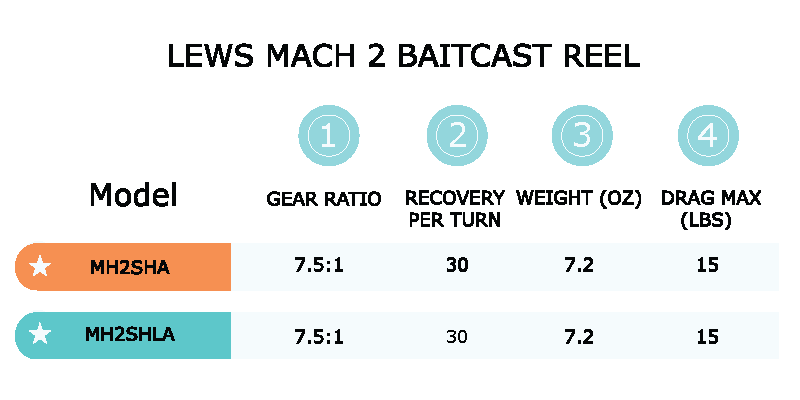 The Features:
The Lews Mach 2 SLP Baitcasting Reel is a great choice for anglers that are looking for an affordable, yet reliable reel. It has Zero Reverse Speed Gears which allows you to fish at any speed without having to worry about backlash.
The Winn Dri-Tac Knobs will allow you to easily adjust the tension on your reel while fishing. It also features a Magnetic Control System (MCS) braking system which allows you to cast further by reducing backlashes and line twists. This is a great feature if you're using a braided line as it reduces friction between the line and spool, allowing more distance when casting.
The Design:
Lews Mach II features a push-button spool release and dual casting controls. The reel has a heavy-duty aluminum frame and lightweight graphite side plates for durability with reduced weight. The machined aluminum handle is designed to be ergonomic, making it comfortable to use the reel all day long.
The design also includes an aluminum spool with a graphite side plate for reduced weight and improved casting performance.
The Feel :
One of the best features of this reel is premium aluminum construction. The attention to detail and design makes the Lews Mach II baitcasting reel feel like an extension of your arm, while the ball bearings on each side provide smooth retrieval with minimal effort on your part.
The Application :
The Lews Mach II is a fantastic reel for many applications. We can proudly call it all around casting reel. This means that it would work great with everything from surf fishing to deep-sea trolling and even bluegill hunting!
The Pricing :
Lews Mach II baitcasting reel is one of the best-priced reels on the market. It offers a lot more features than other models in its price range and is sure to last you for many years! 
The Pros
It has a built-in counterbalance system that allows you to cast smoothly and far.
You won't have trouble with backlash because this reel has an instant anti-reverse gear.
It has  a magnetic cast control system that allows you to 'cast and forget'
This reel is durable because it has a rugged machined aluminum frame, graphite side plates, and an aircraft-grade stainless steel spool.
The reel is also lightweight because it is constructed of a machined aluminum frame and components.
The reel also has an "easy cast" braking system that allows you to control your fish as they come up on the shoreline or boat dock
The Cons: 
This reel is a little pricey.
Lews Mach 2 Baitcaster Combo
Lew's Mach 2 Baitcast Combo is the perfect starter combo for any angler looking to get into baitcasting. The reel has a high quality gear ratio, oversized clicker and cast control, while the rod can be used with light-gauge lines up to 6 pounds of mono or braid fishing line without sacrificing power on long casts
Final Verdict :
Lew's baitcasters are a popular choice among anglers. The Mach 2 SLP baitcasting reel has gained popularity over the years. Boasting a sleek, low-profile design and plenty of line capacity to get you through the day with ease, this is one fishing tool that's worth its salt. If you can afford it (and if your budget will allow it it), we highly recommend adding this high-performing reel to your collection.
Related Resources :
Best Baitcasting Reels 
Are Lews Reels Good for Saltwater
Lews Mach 2 vs Mach Crush Compared