The brand is one of the main considerations when getting fishing tackle and especially reels. Getting your reels from brands that are well known will give you confidence that you are getting the best.
Shimano and Penn brands are some of the best fishing brands you will find. Their products are made with the angler's need in mind and have been in existence for a very long time; you are assured of their quality.
Most experienced anglers can attest that they own a product from either of the two brands. Although the two are rated among the best, their products vary, and that's why you will find that some anglers prefer Shimano reels while others prefer Penn reels. So, let's see what tells the two apart.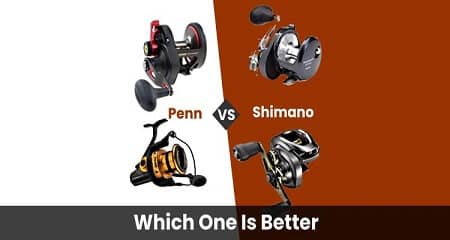 Lets go deep into both the reels, their similarities, differences. It will help you to choose the right gear as per your needs.
Also Read : Who Makes Best Spinning reels? 
More About Shimano Reels
One of the most popular Shimano Reel : SHIMANO Sedona Fi Spinning Reel
Shimano brand was introduced in  1921, but the production of Shimano Reels only started in the 1970s. In 1971, they developed their first spinning reel. Later in 1977, they developed the first baitcasting reel. After this, a series of advancements on their fishing reels, making the brand rate among the best. In 1981, Shimano developed the first computer controlled boat reel and by 2012 Shimano had established itself firmly in the market for fishing products. With Shimano reel, you can choose the material, size, and design that works best for you. So whether you are looking for the most affordable or the best high-end fishing reel, Shimano reels have got you covered.
Key Features
Super Slow Oscillation system
Shielded anti-rust ball bearings
X shield Protect
I-DC4
X-ship gear system
Stainless steel one-piece bail
Micro module gear technology
Propulsion Line management System
You may also Like :  Are Shimano Reels Really Made in Japan? 
More About Penn Reels
Penn manufacturing company is an American-based company that dates back to the 1930s. It's one of the most preferred brands for fishing reels as it's a USA-based company, and it has stood the test of time. In 1932, Otto Henze, the founder of Penn, completed his first two-reel designs. These Penn reels were sold to Miller Auto Supply Company in 1933, and Otto produced two more designs. Unfortunately, in 1948. Otto died, and his wife took over the company.
One of the best Penn Reels : PENN Battle II & III Spinning Fishing Reel
The first produced reel, Model F, was a surf reel made for casting far. The legendary senator series was the second production for heavy game fish. Over the years, Penn has come up with more reels with different designs, sizes, and technologies.
Also Read : Are Penn Reels Made in the USA ?
Key Features
CNC Gear technology
Ingress Protection Rating
Switchblade harness lugs
Adjustable strike stop
Instant Anti-reverse
Bait clicker
Line capacities on the spool
Techno-balanced rotor
You may also like : What are best Penn Spinning reels in the market ? 
Penn vs. Shimano Reels: What's the Difference
Undoubtedly, Shimano and Penn reels are among the best reels found in the market today. However, the two products vary slightly, and here are some of their differences.
Origin Year
Penn Reels date back to 1932 when Otto Henze made the first two F and K models designs. On the other hand, Shimano reels can be dated to the 1970s. Although the brand was started in 1921, it created reels in the 1970s, having the first spinning reel made in 1971.
Location
Penn spinning reels are USA-made reels, and their headquarters is located in Lowa. However, some Penn reels are made in China. In contrast, Shimano reels are Japanese products, and their headquarters are located in Sakai. You can also find Shimano reels made in China, Malaysia, and Singapore.
Technologies
Both Shimano and Penn reels have their technological advancements. You will find advancements like IPX Rating, IPX5/6 Sealed protecting keys and Switchblade lugs for Penn reels. In contrast, Shimano reels have S3D technology, I-DC4, SVS infinity technology, and Propulsion line management.
Penn vs. Shimano: Head to Head Comparison Table
Product
Country of origin
Country of origin
Japan
USA
Year of origin
Price
Price
A little expensive
More affordable
Headquarters
Technologies
Technologies
S3D technology, X-ship, I-DC4, SVS infinity, Propulssion line amnagement
IPX Rating, IPX 5 and 6 sealed protecting keys, Switch blade lugs
Founder
Applications
Applications
Saltwater and freshwater
Saltwater and freshwater
Other manufacturing countries
Other manufacturing countries
Singapore, Malaysia and China
China
Penn vs. Shimano: Which one is Cheaper?
Shimano and Penn reels vary slightly in their prices. However, Penn reels are usually cheaper compared to their Shimano counterparts. For instance, a 2500 Shimano Shimano Stradic Ci4 and Penn  Clash 2500. Shimano Stradic is more expensive, has a gear ratio of 6.0:1 and seven ball bearings. On the other hand, Penn is cheaper with nine ball bearings and a gear ratio of 6.2:1.
Final Verdict
Every angler intends to have the best and most reliable fishing reel. To ensure you end up with the best product, you need to research thoroughly. Anglers who have come across Shimano and Penn can attest to their quality and superior performance. Telling which is better can be hard as both excel in their applications and anglers have their preferences.
If you are a beginner and you are wondering which of the two reels to choose, this article will help you decide. However, I would recommend Shimano reels due to their technologies and their maintained quality through the years.
Related Resources :